Dr. Peter A. Ward named "World Expert in Sepsis"
By Lynn McCain | September 21 2021


Dr. Peter Ward, Active Emeritus Professor and former Chair of Pathology, was named "World Expert in Sepsis" by Expertscape on World Sepsis Day, September 13, 2021. To be named a World Expert, one must be in the top 0.1% of scholars writing about Sepsis over the past ten years. Ward came in among the top .006% of scholars in the world and the number 1 scholar on sepsis at the University of Michigan.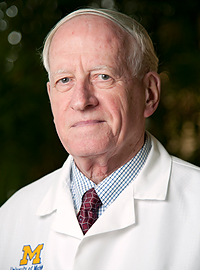 Ward served as the Chair of Pathology at Michigan Medicine from 1980 – 2005 and has been engaged in research since his medical school days, with his first peer-reviewed, 1st author manuscript published in 1959. He has since published more than 700 manuscripts in peer-reviewed literature, primarily focused on the role of complement and inflammation in sepsis. In addition, he has written 227 book chapters and authored 7 books in the field.
Please join us in congratulating Dr. Peter Ward on this outstanding recognition!