After Years of Effort, the New Automation Line at UH Core Lab Goes Live!
By Christine Baker | December 6 2021


With great anticipation, the UH Core Lab team hosted Department Chairman Dr. Charles Parkos and other senior leaders in our department on November 9th to demonstrate the department's newest automation lines. These automation lines are the result of years of planning, and literally, hundreds of hours spent envisioning, forecasting, designing, and training involving laboratory scientists, architects and equipment planners, engineers, project managers, IT experts, construction teams, and partnering vendors.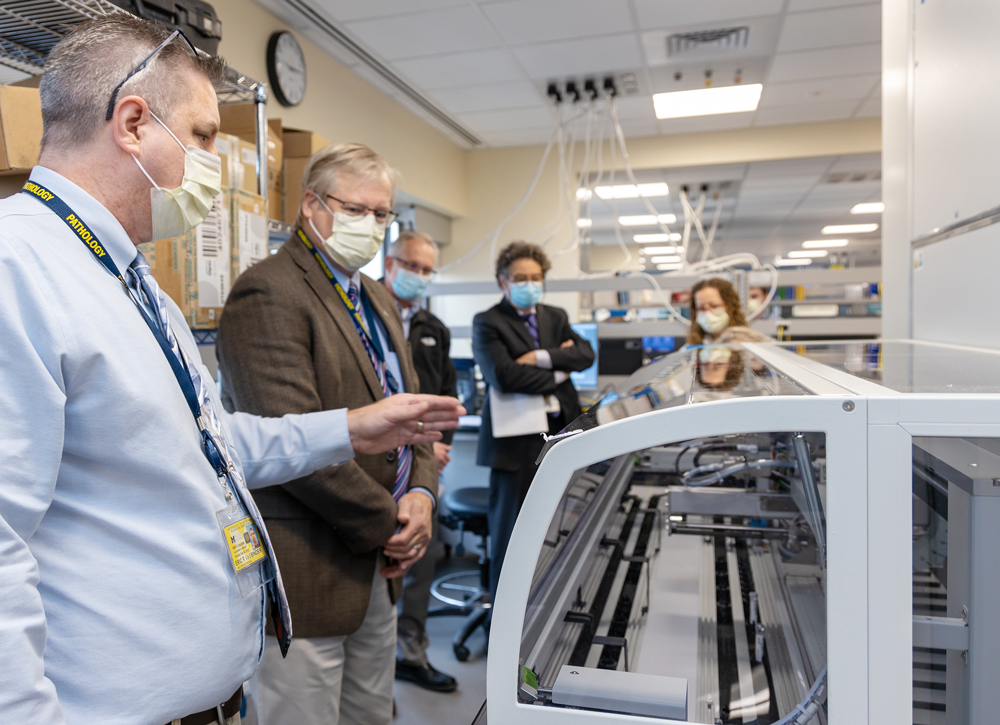 Eric Vasbinder and Todd Teifer led the team on a tour through the spaces, outlining the advantages and increased throughput that the automation is bringing to Michigan Medicine. Leadership not only got to see the complex system of automation but took turns loading some of the very first specimens to go onto the line. Mary Tocco also spoke about the upcoming pre-analytical automation components that our Department will soon add to Specimen Processing, which will further reduce turn-around times for Michigan Medicine patients.
Speaking personally, departmental leadership mentioned the Core Lab automation lines on my first day on the job in April 2014. A week later, I sat next to Dr. Don Giachario on a short flight to a site visit and learned about his role in the department and the future visioning of an automated Core Lab. Throughout the design of the UH spaces, the automation lines featured front and center in our discussions for the ideal layout. During our lean planning exercises, we worked to envision how hematology and chemistry would align their automated capabilities for a comprehensive and integrated Core Lab. I also remember mocking this space up at a cold and dusty warehouse near the Ann Arbor airport to refine the layout.
A few years later, during the early phases of construction at UH, under the leadership of Dr. Riccardo Valdez as the Clinical Pathology Director and Janette Todd as the Clinical Core Lab manager, experts further modified the plans and added additional automated capabilities, and enhanced the layout.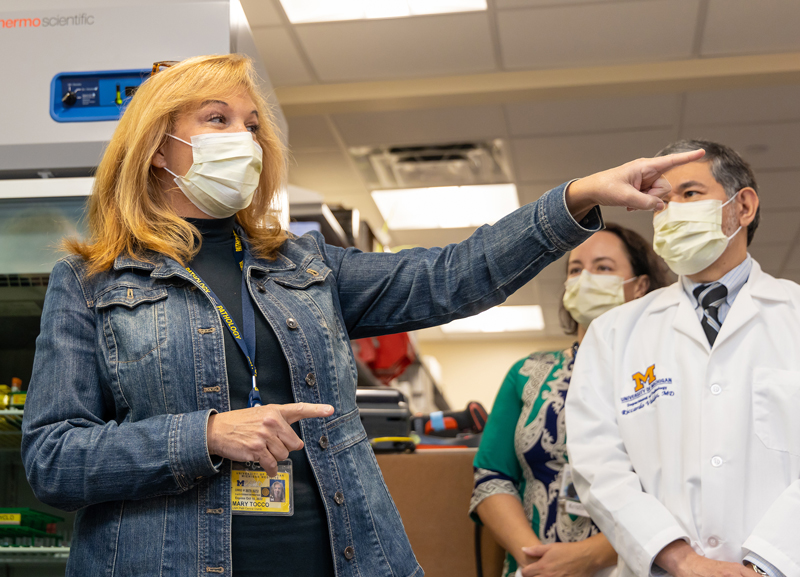 Last fall, construction crews installed the new Sysmex automation line for Hematology as part of its lab operation. In November 2020 the system officially went live, allowing the older line to be decommissioned. In February of this year, crews installed one arm of the new Siemens Chemistry line in the old Apheresis space to allow for early training and validation to run parallel to the construction effort.
As soon as the contractor turned over the new spaces this past summer, truckloads of equipment started to arrive and unload at UH, starting months of installation and calibration as well as ongoing validation and training. From late October through to November 9th, years of effort culminated in various components of the automated system becoming operational.
Many thanks and appreciation to the Chemistry and Hematology teams, as well as our construction partners, IT experts, and department leadership!