Careers in Pathology: Neuropathology Fellowship
By Camren Clouthier | March 2 2022


There are many different career pathways within the field of Pathology that the residents and fellows can pursue, based on their interests and aspirations. Neuropathology is one fellowship that is offered at Michigan Medicine. We spoke with Dr. Emile Pinarbasi, a Neuropathology fellow, who was kind enough to share some details related to her career and experiences within the Education program.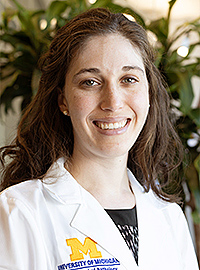 Pinarbasi has been with Michigan Medicine since coming to the institution in 2018. After completing her MD PhD at University of Texas Southwestern, she completed a two-year AP-only residency (as part of the AP/NP and physician scientist track) before beginning her current fellowship at the University of Michigan. Pinarbasi explains that she originally had an interest in the neurosciences, particularly neurodegeneration, during her PhD program, which is what ultimately led to her career as a physician-scientist in Pathology. "The job of seeing patients and managing their care just wasn't the right fit for me. That's when I found Pathology." When it came time to select an institution to continue her medical career, Pinarbasi, along with her husband, Aaron, say that the University of Michigan was a no-brainer. "I knew I wanted to pursue a program with a strong research program," she describes. " University of Michigan was an obvious choice. Aaron was selected for his fellowship here and shortly after, I matched here."
Fast forward to the current year, and Dr. Pinarbasi is now eight months into her present fellowship. She mentions that her routine varies and that she actually has a few different responsibilities. "One role is brain cutting," Pinarbasi describes. "Basically, describing them, making a gross assessment, and selecting areas to examine under the microscope." Another one of her responsibilities includes examining slides from both autopsy and surgical cases to make a diagnosis. From there, she creates a written report and consults with a faculty advisor before formally signing the case out. Communicating with the clinical teams is also essential. Pinarbasi added, "we have a weekly Brain Tumor Board where Radiology, Neurosurgery, Neurology, and Pathology all come together to discuss the different cases. I am the person who presents the pathologic findings."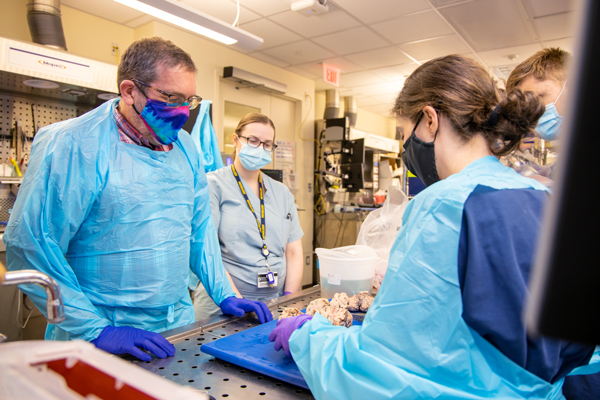 In addition to her daily and weekly tasks, Pinarbasi has also contributed to a number of scientific publications and was recently awarded a new research grant. "This is an NIH-funded R25 clinical neuroscientist grant," she notes. "It funds the opportunity to conduct research approximately 80% of the time in a laboratory setting." The project will focus on research centered around a protein called TDP-43. "It's a protein that plays a critical role in RNA processing, and is aggregated and mislocalized in ALS. I am going to be working to understand the distribution and function of a newly discovered splice variant, short isoform TDP-43 (sTDP)."
The most gratifying part of her job as a fellow, Pinarbasi says, is getting to see so many unique and compelling cases. Additionally, she enjoys working with such a diverse group of faculty members that the Department of Pathology has to offer. "Just for the record, I think all of the faculty here are amazing," she remarks. However, the Neuropath subspeciality has introduced her to the likes of Drs. Andrew Lieberman and Sandra Camelo-Piragua, both of whom have been instrumental mentors for Pinarbasi during her career. However, for every interesting case comes a challenging one, too. "From an emotional perspective, a lot of the brain tumors have a terrible prognosis."
Pinarbasi hopes to have a laboratory of her own someday, where she will dedicate 80% of her time to doing research experiments, writing grants, and producing scholarly publications. She hopes to accomplish this after completing her fellowship. "As for the other 20%, I want to do clinical neuropathology on service for a couple of weeks out of the year." Her ultimate goal is to have her own independent research facility.
Pinarbasi was happy to offer a word of advice to prospective medical students with an interest in the field of Pathology. "Try and get exposure to Pathology. Come do an elective, preview cases, look at gross specimens, and really try to see things and talk to people," she says. "Pathology is a lot cooler than people give it credit for. Oftentimes, people don't even know what we do."
On a personal note, Pinarbasi mentioned a fun fact about herself; she is a former ballroom dancer. "I'm very amateur, but I used to do social routines such as tango, blues, and swing dancing."
When asked to reflect upon her experience at Michigan Medicine so far, Pinarbasi's answer was quite candid. "I'm so happy that I came here. I've had the most amazing experience in terms of training," she declares. "There are great cases, great research opportunities, amazing pathologists, who are also amazing teachers, and I really can't think of a better place!" She also wishes to thank her husband Aaron for all of his support and guidance. "Without his unending support, I definitely wouldn't be able to do what I do."