Recapping the 2022 Laboratory Professionals Week Celebration
By Camren Clouthier | May 9 2022


Medical Laboratory Professionals Week (MLPW) is an annual week-long recognition, which originated in 1975 in an effort to increase public understanding and appreciation for the impact of the laboratory as it relates to a patient's diagnosis and care. The ultimate goal of Lab Week is to highlight the roles that laboratorians play as part of the healthcare team. This is also a moment for lab staff to recognize their contributions to patient care while having fun with their coworkers. This year's 2022 Medical Laboratory Professionals Week celebration at the Department of Pathology, which ran from April 24-30, was a big success! Let's take a moment to recap some of the top moments.
Earlier in the year, it was announced that this year's theme would be "Back to the Lab", a spin-off of the popular Back to the Future films. The Department created exclusive limited-edition merchandise, which folks could order from the website, in support of lab staff.
"Lab Week is an amazing way to not only celebrate each other, but to get the word out to everyone about what we do every day," says Amy Drouillard, a Medical Technologist in the Microbiology lab. "It is a week of reflection, pride and community with each other." Christine Rigney, the Anatomic Pathology Operations Director said of Lab Week, "I really look forward to an entire week of showcasing and celebrating our entire team of laboratory professionals."
The week started off strong, as members of the Department had a chance to participate in a number of unique games and online activities, including bingo, crossword puzzles, word scramble, and a newly-minted lab history quiz. Tuesday kicked off the coloring contest and Wednesday hosted the virtual 5K run. On Thursday, the games continued, along with a Lunch & Learn event, sponsored by Donate Life. The week concluded with the lab tours, both virtual and in-person. Also on Friday was the 50's and 80's themed costume contest, where staff members could send in photos of their wacky outfits.
"This year's theme 'celebrating our past as we look into our future' resonated with me as I thought about the decades of laboratory leaders who have positioned us to become more visible", explains Kristina Martin, the Clinical Pathology Operations Director. "Visibility, awareness, and understanding are why Lab Week was created. Discussions around sensitivity and specificity of laboratory tests, probabilities, and proper collection technique were topics that likely were new to many homes."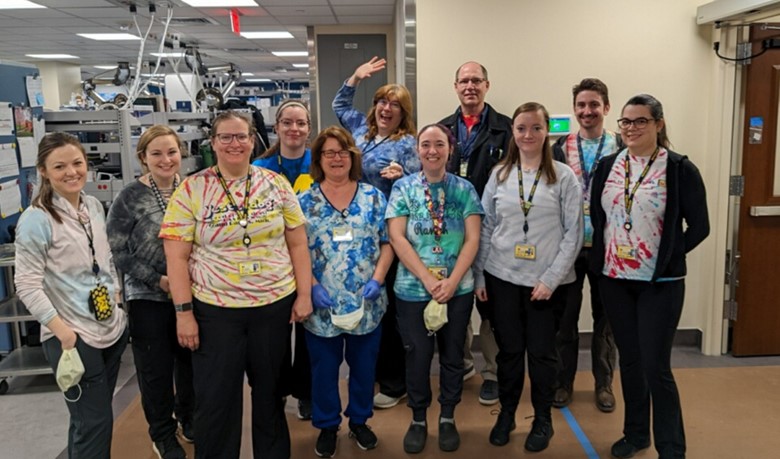 Although another epic installment of Lab Week is officially in the books, we'd like to thank our outstanding laboratory professionals all across the Department for their ongoing contributions and dedication to science, health and patient care each and every day.
"Let us all use this momentum to continue the conversation forward, educate the public with regards to our profession and our impact to patient care. This is our chance to continue what our predecessors started," concludes Martin. "I have a dream that one day, a kindergarten teacher asks their classroom what they want to be when they grow up, and at least one or more kids answer that they want to be a laboratory professional."
—
The winners for Lab Week's daily activities are listed below. Please contact Lauren Branson to claim your prize.
Coloring Contest:
Rachel Salmon
Tracy Rocco
Joshi Hardik
Danielle Steinhebel
Allen Ano
Costume Contest
Kristina Martin
Doc Brown
Marty/Doc Duo
Crossword Puzzles
Katie Lozon
Tracy Rocco
Samantha Bialy
Gugu Bitz-Ramirez
Pam Kaur
Megan King
Kim Van Dine
Photo Contest
"A Walk Among the Moon"
"Roko the 007 Roko Bond"
"The Walk to Paradise by Alex"
"Chilling at the Beach"
"Microbiology Lab Submission"
"Nature of Life"
"Gift of the Creator"
Word Scramble
Tracy Rocco
Renee Stoklosa
Drew Bates
Sarah Guenther
Coretta Ealy
Sydney Dodde
Word Search
Coretta Ealy
Abby D'Angelo
Chris Lenton
Melissa Boyd
Tina Foss
Erin Rubley
Eri Tapalli
Lab History Quiz
Deirdre Fidler
Julene Pummill
Kate Ferguson
Jenean DeVaul
Jean Tarabul
Susan Fabio
Kristi Whebble
Bingo Lab Team Winners:
Game 1, Monday 4/25 6am, Winner: Specimen Processing
Game 2, Monday 4/25 9am, Winners: Pathology Informatics, Transfusion Medicine (Main Lab)
Game 3, Monday 4/25 10pm (ends next day), Winners: Brighton Health Center Phlebotomy, Specimen Processing
Game 4, Tuesday 4/26 1pm, Winner: Microbiology/Virology
Game 5, Tuesday 4/26 8pm (ends next day), Winner: Immunopathology
Game 6, Wednesday 4/27 6am. Winner: Clinical Core Laboratory-Hematology
Game 7, Wednesday 4/27 4pm (ends next day), Winner: Transfusion Medicine (Main Lab)
Game 8, Thursday 4/28 5am, Winner: Administrative Offices
Game 9, Thursday 4/28 4pm (ends Friday), Winner: Microbiology/Virology
Game 10, Friday 4/29 6am, Winner: Cytopathology
Game 11, Friday 4/29 3pm, Winner: Clinical Core Laboratory (Chemistry)
Overall Winner: Transfusion Medicine (Main Lab)