Congratulations to the Department's Medical Laboratory Science Interns
By Camren Clouthier | May 13 2022


On May 11, the Department of Pathology recognized the spring Class of 2022 Medical Laboratory Science (MLS) interns, who successfully completed the program. A graduation ceremony was held at the Superior Conference room, hosted by Allied Education Health Program Manager Karen Barron, MT (ASCP). The event featured remarks from Drs. Jeffrey Myers, as well as appearances by Dr. Kathleen Cho, and Chair Dr. Charles Parkos, who offered their sincerest congratulations. Graduates received their certificates of completion as they prepared to move into the next phase of their careers.
"I am proud of these new Medical Laboratory Scientists and what they have accomplished," commented Barron. "I'm looking forward to continuing working with them and watching them grow professionally as they embark on careers here at Michigan Medicine." At the event, Barron added that all of the graduating interns have accepted positions to continue working in the Department of Pathology.
"Today we celebrate your accomplishments and your dedication to a field that needs you," said Dr. Myers. "Medicine will benefit not only from what you know, but perhaps most importantly, from who you are and the unique gifts that each of you brings into our workplaces."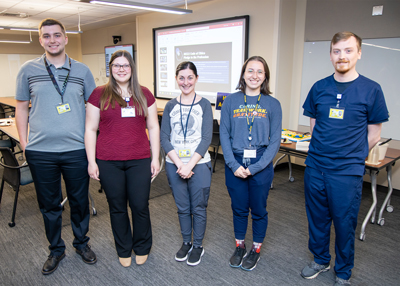 The Department is proud to announce the following graduates:
Lindsey Albone, Ferris State University
Hanna Delapp, Wayne State University
Zach Genther, Ferris State University
Kyle Jennings, Eastern Michigan University
Mikayla Nayback, Wayne State University
Thank you for your dedication and service to the Department of Pathology. Congratulations!