Dr. Dafydd Thomas - Pursuing a Different Path
By Lynn McCain | July 18 2022


At the University of Michigan Medical School, there are many faculty appointments in a variety of tracks that people can pursue. Most are familiar with the various professor track appointments – which range from Assistant, to Associate, to full Professor in three primary tracks – tenure track, clinical track and research track. Each of these have their own set of requirements for advancement and they all require some form of teaching, hence the name "professor" in the titles. However, there is another track for individuals who want to pursue research, but really don't want to engage in clinical or teaching responsibilities. This track is the Research Scientist track. This is the track those who wish to pursue the pure science of medicine often follow. To learn more, we sat down with Dafydd Thomas, MD, PhD, Associate Research Scientist and discussed his background and career.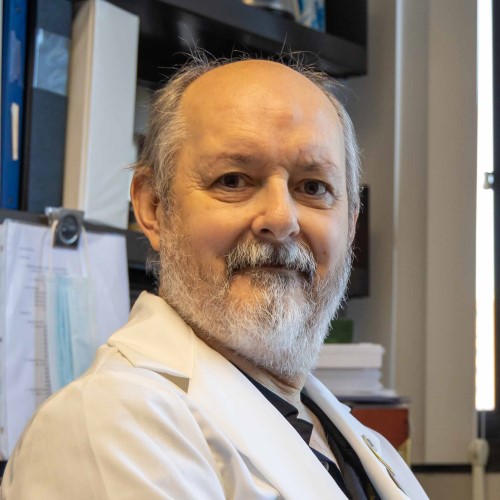 Dafydd was born in the UK and spent several of his early childhood years in Australia. At the age of 11, his family returned to England and upon high school graduation, he attended the University of Cardiff in Wales, where he obtained an honors degree in biochemistry followed by a PhD in protein biochemistry (heavy metal binding proteins in rainbow trout). In 1982, he began a postdoctoral research fellowship at the University of Newcastle on Tyne where his research focused on phosphorylation of hormone sensitive lipase. In 1984, he moved to Syracuse University as a research scholar, then to SUNY Health Science Center, where he completed his MD in 1993. A combined anatomic pathology/neuropathology residency and fellowship, followed by a pediatric pathology fellowship were undertaken at Children's Hospital, Detroit. In 1999, he was recruited to the University of Michigan by Drs. Thomas Giordano and Larry Baker. Giordano is the Director of the Division of Molecular and Genomic Pathology in the Department of Pathology and Baker was the Collegiate Professor of Cancer Developmental Therapeutics in Internal Medicine and Pharmacology (now Emeritus).
How did Dafydd go from heavy metal toxicity in fish to molecular pathology? Medicine had been an ambition of his since childhood, but the competition in the UK was fierce and he was unable to pursue that as a career until a "more mature version of himself" was able to do so in New York. "During medical school, I saw there were two aspects to medicine. The science of medicine and the art of medicine. As a trained scientist, I wanted to know the answers to the questions posed by the patients I saw. Pathology, to me, was a means of obtaining those answers." Thirty years ago, molecular pathology was not a developed field, so Dafydd describes himself as being self-taught in molecular biology. He has been performing PCR testing for more than 30 years, in-situ hybridization testing (ISH) and immunohistochemical (IHC) testing for 26 years.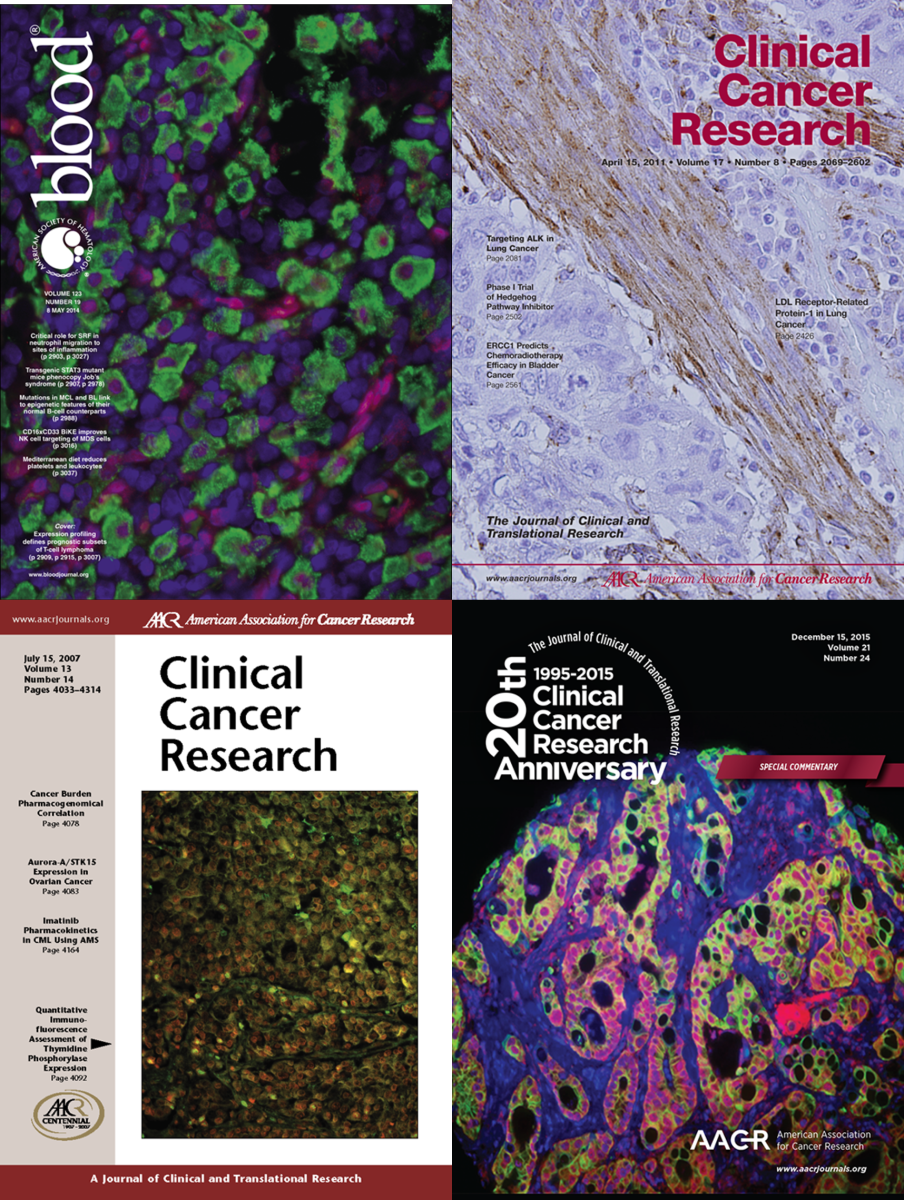 "My area of expertise is in performing high-level complex IHC and ISH in a fluorescence environment," stated Dafydd. He finds the increasing complexity of stains to be his greatest challenge. "In conjunction with Paul Harms (Associate Professor of Dermatopathology), we are introducing multiplex immunofluorescence (IF) to the department and the medical school. The scanning instrument allows us to multiplex up to 6 antibodies and scan them. The resulting image looks like a complicated Rorschach ink blot and needs to be analyzed using sophisticated image analysis programs." Learning to use these new, ever-changing programs is a challenge as is the length of time it takes to work up 6 new antibodies and to get them to work in harmony with each other in staining. Dafydd finds a great deal of joy and satisfaction when he is able to get miRNA probes to work consistently in an ISH/IHC setting – getting that difficult antibody to work! Images that arise as a result are beautifully artistic. "Over the past 20 years, I have had the privilege of working with some of the brightest minds here at Michigan. While publishing the results of these collaborations is great, what has been most fulfilling to me has been images I have generated being selected to grace the front covers of journals on four occasions."
Dafydd credits his mentors who have had profound influences on his career. These include Dr. John Kay (Cardiff) for introducing him to protein biochemistry, Dr. Justine Garvey (Syracuse) for introducing him to immunology and Dr. George Collins (formerly of Syracuse, now deceased) for teaching him neuropathology. "I still have Justine's Methods in Immunology book on my bookshelf." However, the three who were most influential "are my mentors and friends, Drs. Tom Giordano, Larry Baker, and Dan Hayes. They encouraged me to take risks in getting different antibodies to work together." For those coming up behind him, Dafydd advised, "If a young resident is looking for a worthwhile career that does not require the daily chore of making diagnoses and wants a position where no two days are the same, a position like mine is worthwhile. It is a team effort and you need the support of the entire team."
Dafydd enjoys listening to opera as he works and visitors to his lab often are treated to operatic melodies as they discuss science…or nature or rugby. As a young man growing up in Australia and other parts of the UK, and currently living in Windsor, Canada, Dafydd is quite the rugby fan. He has great fun "engaging in good-natured banter with Liron (Pantanowitz, Director of Anatomic Pathology) and Rajiv Patel (Director of Dermatopathology) about rugby." When home in Windsor, he likes to just sit in his garden and watch the wildlife and the elegance of nature. While he chose a career that focuses on the science rather than the art of medicine, "as I look down my microscope, I marvel at the beauty of the tissue. It is truly awe inspiring seeing how the different cells fit together to produce such artistry."