Pathology is becoming FiSHy
By Lynn McCain | July 18


"We want to be a FiSHy department." No, we don't want to engage in unethical/illegal behaviors. Rather, the goal for the Department of Pathology is to enculturate the FISH! Philosophy©.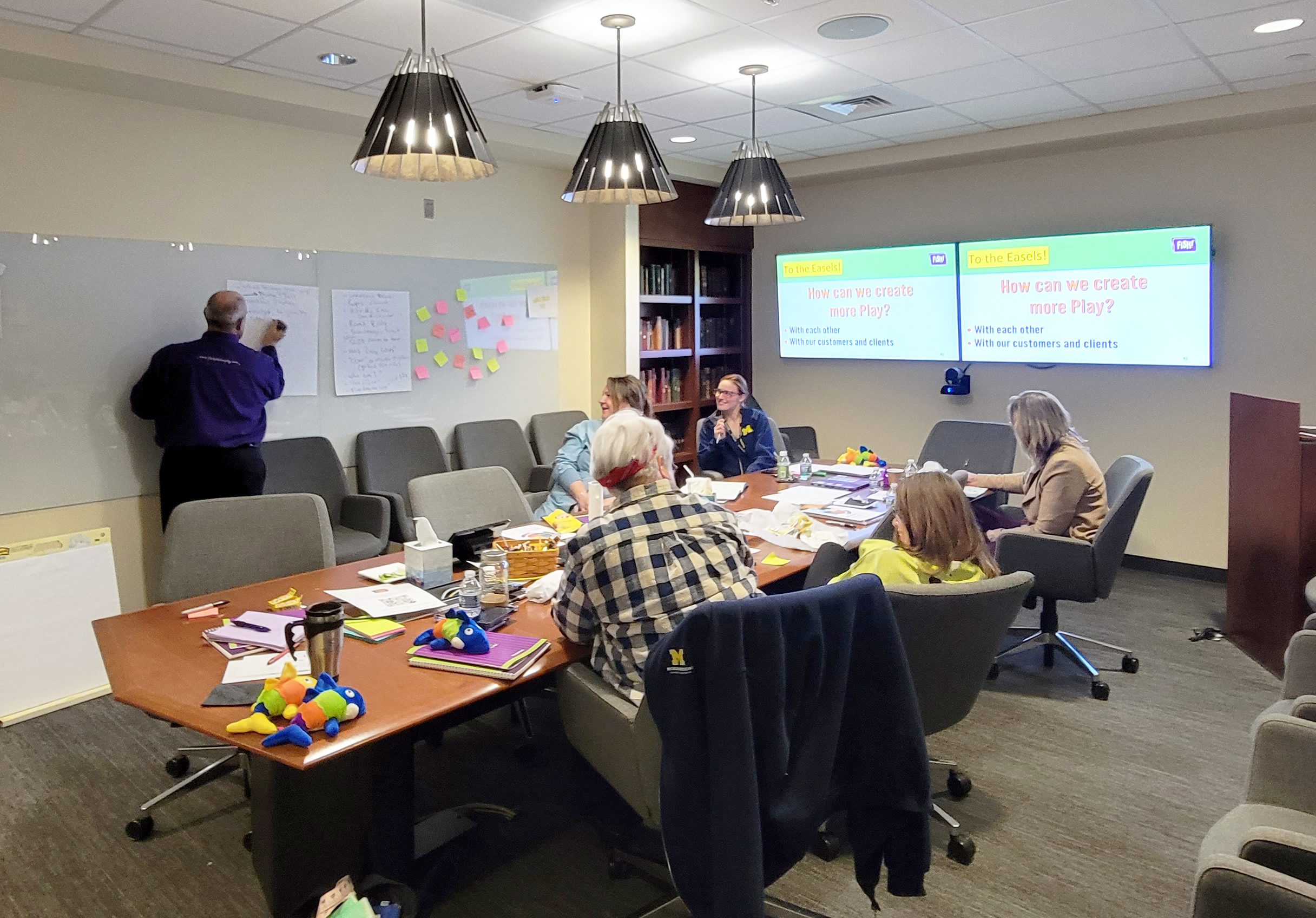 In January 2023, the Department of Pathology launched a new initiative with FISH! Philosophy training sessions for faculty, staff, and trainees. In May, the first cohort of future trainers, comprised of Melina Adler, Gloria Barkley, Karen Barron, Chris Distelrath, Lynn McCain, and Julene Pummill, met for two days under the tutelage of Gib Kerr to learn how to get members of the department "hooked on FiSH!"
Dr. Jeffrey Myers, Vice Chair for Clinical Affairs and Quality, who brought the FiSH! training to Pathology, stated "As we continue to explore a brave new post-COVID world in which there is greater flexibility to work from home, it is incumbent on employers to understand why anyone would prefer to be any place other than the workplace! To draw people back into the workplace requires intentionality around the things that make being in the workplace desirable. This includes making it a place in which joy is a frequent - even if unanticipated - experience, and connection with others is fundamental to one's success and well-being. The Fish! Philosophy is not a touch-feely thing - it's about creating an environment in which we can do our best work while feeling enriched by our co-workers."
What is the FiSH! Philosophy? Documented by filmmaker John Christensen, the FiSH! Philosophy captures the practices of the world-famous Pike Place Fish Company in Seattle, Washington. It is an approach that embodies four simple practices that can revolutionize how someone lives and works: Choose Your Attitude, Be There, Make Their Day and PLAY. With the FiSH! Philosophy, one purposely chooses to have a positive attitude, sometimes moment by moment, in how they approach work, life, and one another. With this attitude, they commit to being there, physically and emotionally fully present, for others – really listening to and engaging with each other in a supportive manner. Someone following this philosophy is actively looking for ways to make someone's day and to introduce elements of play to the work environment- making it more fun to be at work. "Play doesn't necessarily mean silliness, but play embodies curiosity with the goal to bring more joy and an uplifting of attitude to those with whom you work," explained McCain. This requires relationships built on trust, trust that is earned as we are there for one another and consistently show ourselves as trustworthy.
"I am grateful to be a part of an amazing cohort committed to improving the culture of our department" commented Adler. "This work is challenging, and some days will be easier than others, and I am confident that we will be there for each other on this journey." Distelrath added, "The FiSH! Philosophy will help make TEAM a reality and not just a cliché in the department."
To help to spread the FiSH! Philosophy in the Department, a FiSH! for Leaders session was held in June to encourage leaders to implement the FiSH! Philosophy in their units. In addition, the cohort of newly-minted trainers applied for an institutional Wellness grant, which was recently awarded and will soon move forward with plans to conduct additional training sessions across the department. "We FiSH! for engagement, because it is catchy," quipped Pummill. The cohort is optimistic that this philosophy will spread and improve the culture of Pathology across all levels and among all units of the department. As one, the entire cohort stated, "We are committed to it, we will be it, and we will coach it."