Their Success is My Success
By Lynn McCain | September 22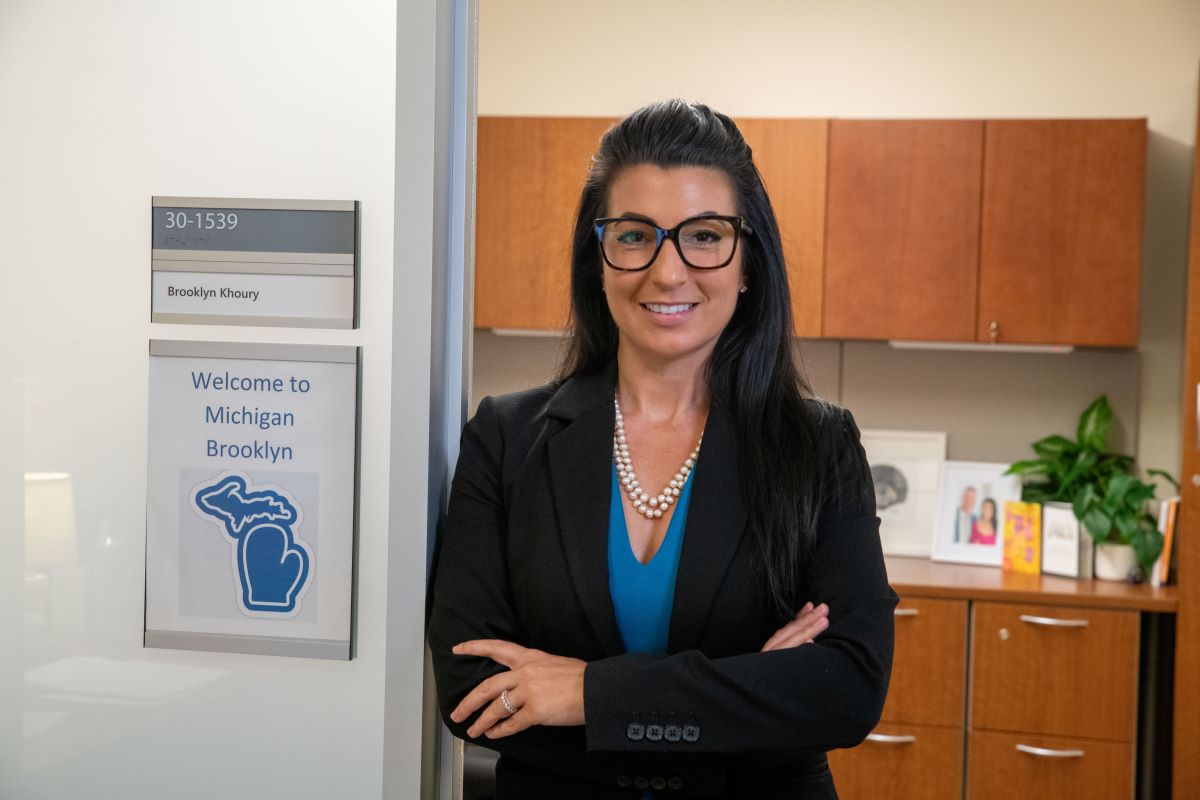 The path to Michigan Medicine's Department of Pathology was filled with opportunities to learn, grow, and develop key skills that combined to make Ms. Brooklyn Khoury, MS, MHA, MBA the perfect fit for her new role as Pathology's Chief Department Administrator. Khoury was born and raised in New Castle, PA, outside Pittsburgh, where she spent the school year with her mother in the small, steel-industry town and the summers in Washington, DC with her father, giving her opportunities to develop skills to navigate both small-town blue-collar culture and the bustling white-collar East coast culture.
Following high school, Khoury attended college and graduate school at Duquesne University in Pittsburgh where she completed a Master of Science degree in Forensic Science and Law. "The nice thing about forensics for people who cannot pick a specific science discipline, is that it is a lot of chemistry, a lot of biology, a little bit of physics, plus law. It is a nice, well-rounded experience," explained Khoury. The program required she complete a fellowship and based on a friend's recommendation, she applied to Children's National Medical Center in Washington, DC for a summer fellowship in a genetics lab, to which she was accepted. "I initially planned to work with the Metro Police Department in DC for my fellowship and do forensics. I applied to Children's on a whim after talking to my neighbor, and it really changed my career trajectory."
After graduate school, she started her career as a cytogenetic technologist at the University of Pittsburgh Medical Center where she worked for a little more than a year. Eventually, she accepted a new position in a molecular genetics laboratory at Johns Hopkins, which she found intriguing. The work with DNA and molecular testing was very appealing to her. Soon, she moved into laboratory management and found herself faced with leadership decisions that would "come down at you from some leadership cloud" and they would be hugely impactful on the day-to-day functions of the lab. To better understand, she decided to pursue a Master of Health Administration from the University of Maryland Global Campus and combined that degree with a concurrent MBA. Shortly thereafter, a senior administrative manager position opened in the Department of Genetic Medicine, where she was working, and she was asked to apply. "That was a nice steppingstone because I already knew the department so well. I had already been there for seven years at that time, and I knew the people. I felt comfortable that I could try out my new skill set with them, and it just took off from there."
In her role at Johns Hopkins, Khoury worked with both the clinical and research arms of the department, which was made up of clinicians, physician-scientists, and PhD scientists. She was able to work with the residency and fellowship programs and touch on a wide range of responsibilities. As her responsibilities grew, she transitioned to becoming the assistant administrator for the department and Johns Hopkins Genomics, which included the Division of Molecular Pathology in addition to her own department's labs. "Bridging the gap between genetics and molecular pathology was natural for me. I started in forensics and did a little cytogenetics before I moved to molecular." Khoury later transitioned to the administrator for the department and remained over the genomics center.
With a growing career in Baltimore, how did Khoury end up at Michigan? "I honestly had not thought about applying for a job in Michigan. I knew the University. I knew it is academically extremely strong, the Medical School is amazing, and it has a great college football team. I am a huge college football fan," she explained. "When I heard about this position, it was intriguing. For me, it was a new institution in a new space and at an organization that is very similar to Johns Hopkins. It happened at the right time when I was ready for a change." Khoury spoke with some people, did a couple of Zoom interviews and "it was genuinely the people I talked to that drew me right in. Every step of the way, everything felt very right. This is the place for me. That is what it felt like."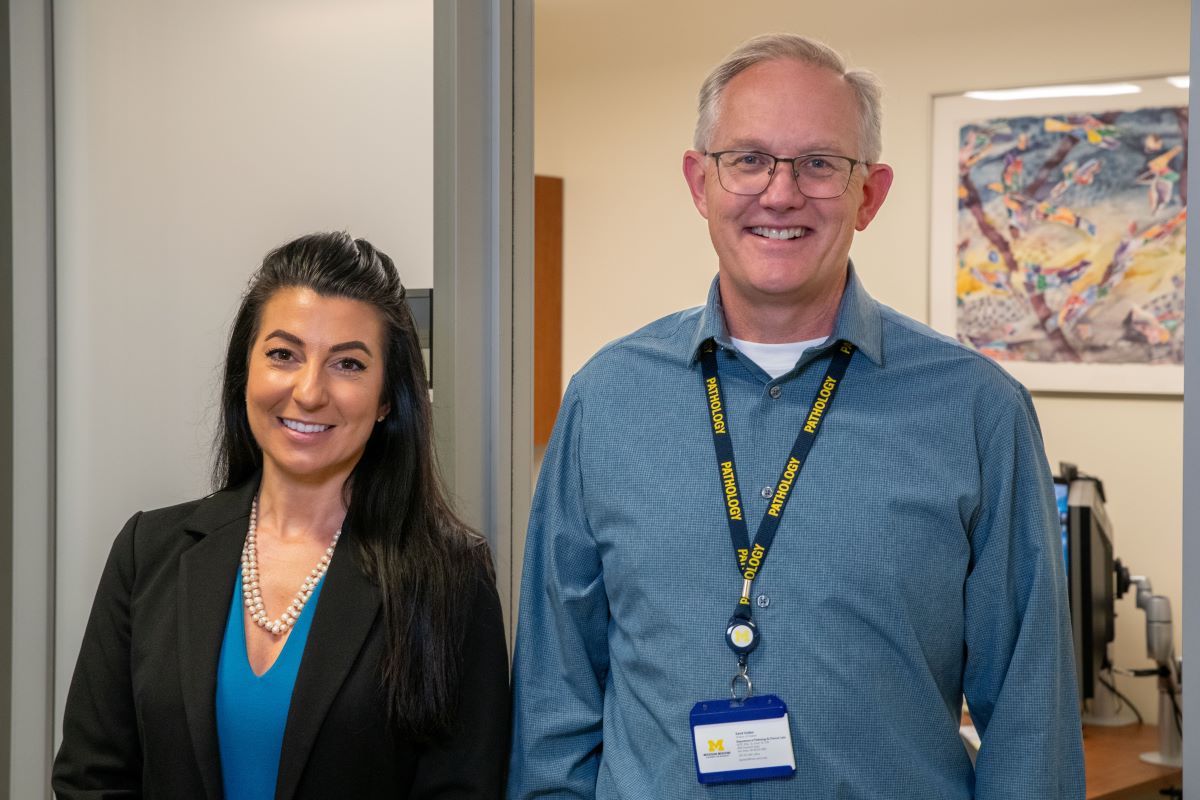 Making the shift from the East Coast bustle to the Midwest college town brings with it some surprises. "One thing that was surprising to me, and this may sound a bit silly, but the people are genuinely kind and collaborative. It isn't that I didn't have kind people that I worked with before, but I am coming from a much more competitive, fast-paced environment. So having people here that check in on me regularly is absolutely refreshing and so welcome and it's just unexpected." Ann Arbor itself has also surprised her. "There are a lot of great restaurants in Ann Arbor of every ethnic cuisine and several great Lebanese restaurants, which are my favorite. There is also the art. Ann Arbor has a lot of great art areas. That has been fantastic. I've been pleasantly surprised and happy with that." Shortly after arriving in Ann Arbor, the annual Art Fairs were held and Khoury had an opportunity to experience the fairs. "I was surprised going to the Ann Arbor Art Fairs because it was fantastic and just as big, if not a little bit bigger, than the Baltimore art fair. Having all the streets closed and people walking around and looking at artwork and sculpture and music – I mean it was just fantastic! That is something I will do every year." Since coming to Ann Arbor, Khoury has also found unique bookstores to quench her love of books and has enjoyed kayaking on the Huron River.
The move has also brought her some challenges, including that of missing family and friends. This has been more difficult than she anticipated, although she and her husband have had friends visit nearly every weekend. Another challenge stems from having to rebuild her support network in a new community. She is actively networking to build relationships and has enjoyed getting to know some of the other departmental CDAs at Michigan Medicine. Building this network will help her meet one of her goals as CDA. She wants to improve communication and transparency, not just within the department, but also between departments in Michigan Medicine. "I want to build a strong communication system that would bring people together to understand what is happening across the department and in other departments. That is a high priority to me." With this communication, she wants to be sure that Pathology has a seat at the table early and often in discussions with Michigan Medicine. "The department touches everything. That gives us special insight into all the different specialties and departments that others may not have. Having a strong presence across the institution is a high priority for me as well."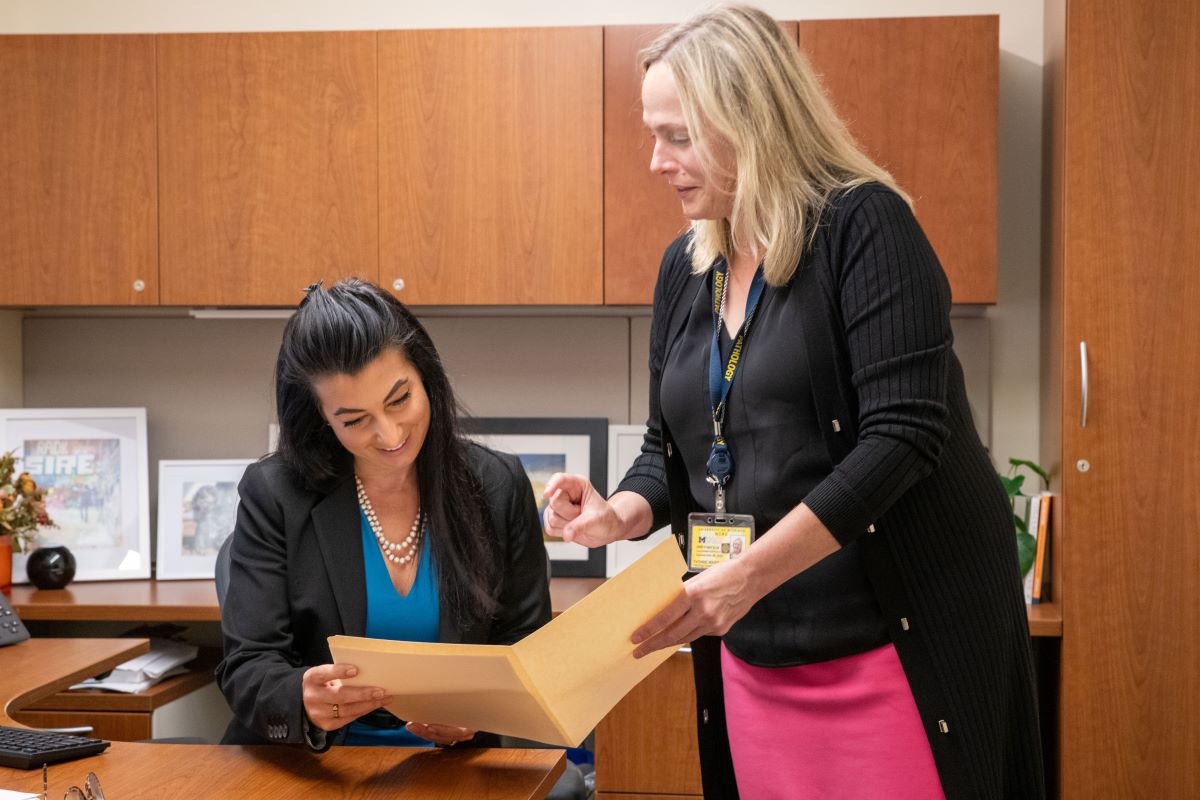 Khoury finds joy in simple things in life. Dogs are number one on her list. "I love to rescue and work with rescue organizations. That is a passion that just makes me happy." She is also a big fan of books – any kind of books! She loves finding and purchasing interesting books, even if she never reads them. One of her favorites, though, is purchasing cookbooks that have lots of great photos in them. "I read them like a book, cover to cover. I then put them on the shelf and never cook anything from them. I love to cook, but I don't follow recipes. They just give me ideas." She also enjoys travel to tropical destinations – places that are hot and have nice beaches where she can look at the ocean and smell the salt water. Professionally, her joy comes from setting goals and working toward achieving them. "I get a lot of satisfaction and self-motivation out of thinking 'what do I want to achieve and how do I get there?'" she explained. She also gets tremendous joy from professionally developing her team, making sure they have opportunities to try new things, to grow and to learn. "Their success is my success. That has been the most satisfying thing to come from my time at Johns Hopkins. Seeing all the people I worked with or that worked for me over the years really moving into leadership positions and thriving. There is nothing that feels better than that."