She Designed a Life She Loves
By Dustin Johnston | August 27 2018


Everything is changing constantly," Dr. Cho said, "It applies to both research and clinical practice: you have to be able to self-teach or you will find yourself obsolete." This was true back when she was a pathology resident and it remains true today, even though she is established as a leading authority on ovarian cancer.
Dr. Kathleen Cho was, of course, never in threat of becoming obsolete. She's a lifelong learner, confident about what she knows and curious about what she doesn't. She knows her strengths and focuses on how she can leverage them to help herself and her colleagues understand and fight ovarian cancer. These strengths, a love and knack for surgical pathology, a relentless work ethic as a researcher, as well as a commitment to education, have positioned her for success.
"Kathy is truly a triple threat in every way." Department of Pathology Chair Dr. Charles Parkos, said of Cho. "She has established an international reputation for her groundbreaking research in models of ovarian cancer, is a renowned diagnostic gynecologic pathologist and has worked tirelessly in the department, institutionally, and nationally in the area of academic affairs."
Cho would call her rise as a physician-scientist serendipitous, but her success is due more to focus and determination than luck. During residency at Johns Hopkins, she was initially working in general surgical pathology. As chief resident and surgical pathology fellow, she learned first-hand what it would be like to work as full-time faculty, signing out frozen sections and surgical cases at full speed all day, and often covering night calls. The heavy workload did not diminish her interest in surgical pathology or the gratification she felt in patient care, but the rapid pace of diagnostic pathology did not allow much time to satisfy her curiosity about the basic underpinnings of disease.
At that time molecular biology was just beginning to work its way into the clinical mainstream, and faculty at Johns Hopkins were leading the way. Working in the proximity of researchers focused on understanding the genetics of cancer, Cho was motivated to stay on top of all the latest advances in the field. "I felt ill-equipped to critically evaluate some of the exciting research that was coming out in the literature, and I realized I wanted to spend time getting research training," she explained.
A member of the Hopkins faculty, Bert Vogelstein, MD, was working to understand the molecular pathogenesis of colon cancers, studying the genetic changes associated with the progression of normal colon cells to adenomas and cancers. A novel idea at the time, Vogelstein collaborated with a gastrointestinal pathologist, Stan Hamilton, MD, to carefully microdissect colon tissues, so that they could confidently compare DNA samples from normal and tumor cells. Although Vogelstein had never taken on a pathology trainee before, Cho was able to convince him, as well as her department chair, to allow her to pursue a one-year research fellowship in the Vogelstein laboratory after completing her surgical pathology fellowship. One year turned into three, and by the time she left the lab, Cho was poised to start her own independent research program.
Although she was excited by cancer research, Cho remained reluctant to leave her clinical work behind. During her years in the Vogelstein lab she seized another golden opportunity to sign out cases in gynecological surgical pathology at the hospital, and she's been focused on that clinical specialty ever since.
Research did not lead Cho on a linear path, of course. There have been dead ends and times when it was difficult to know when to stop and change direction.
Her roles as a surgical pathologist and cancer researcher were harmonious rather than conflicting. As her diagnostic skills sharpened while signing out gynecological cases, she gained a first-hand understanding of what the pressing clinical questions were in gynecologic oncology. Similar to her mentor's work on colon cancer, her focus was now on characterizing the molecular alterations in gynecologic tumors and using this information to better classify them. Most of her early career was spent on building the foundation on which her current research is built.
Research did not lead Cho on a linear path, of course. There have been dead ends and times when it was difficult to know when to stop and change direction. But there have also been landmark discoveries. After years of work to identify markers that characterize specific subtypes of ovarian cancer, Cho's recent research has focused on the finding that the most common and lethal type of "ovarian" cancer (high-grade serous carcinoma) does not originate in the ovaries, but in the fallopian tubes. It's now understood that early high-grade serous carcinomas are in fact so small that there is no effective diagnostic tool for early detection. The tiny cellular beginnings of this deadly cancer take the highly trained eye of a pathologist to recognize and study. Cho not only has the diagnostic expertise to recognize these miniscule lesions, she is creating powerful mouse models to help understand these cancers, and to test new strategies to prevent, diagnose and treat them.
This critical step of building genetically modified mice as living tools also relies heavily on researchers like Cho, as it requires careful histopathological analysis of the mouse tissues in order to confirm that the model is, in fact, a useful one. After years of diagnosing and classifying ovarian cancers, she is uniquely qualified to credential these models and confirm that they faithfully model the histopathology, genetics and biology of their human disease counterparts.
In 2017 her group reported on the development and characterization of genetically engineered mice that develop tumors that closely mimic human high-grade serous carcinomas. Mice developed by the Cho lab have now been sent across the globe and some have been deposited in a central repository to make them widely available to the rest of the research community. Referring to the mice she's created as well as others she is currently developing, Cho said, "We've been heavily into the development and credentialing of the models and now we're well poised to start to do the good stuff, which is the part we hope will actually have an impact on human health."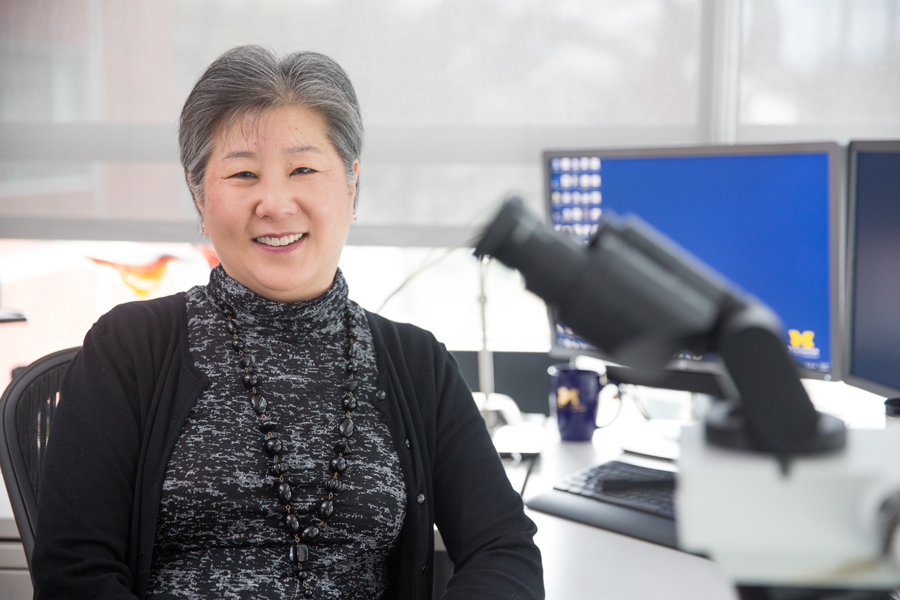 Somehow, amidst all of this work, Cho was able to take on more responsibility. In 2013 and 2014, she served as Interim Chair of the Department of Pathology, a position that she did not take lightly. "She cares deeply for our department," said Dr. Andy Sciallis. "Everything is done to the best of her ability and no one gets short-changed." Reflecting on her 14-month span as Interim Chair, as well as her current administrative roles, Cho continued to look outward. "It's another way I can have an impact on other people's lives." she said, "This time, instead of patients, it's colleagues, which can be really rewarding in ways I did not expect."
She is not simply someone who is passionate about work, she is someone who is passionate about life.
While it's easy to focus on Cho's professional accomplishments and dedication, this narrow view of her does not paint the entire picture. She is not simply someone who is passionate about work, she is someone who is passionate about life. Cho emphasizes her work-life balance and even attributes her productivity to her children. "Having children during my residency and fellowship was challenging but I learned to be highly efficient." She said. "Now that they're older, things are much easier because I'm not juggling as much. Life is simpler." Her husband, Dr. Eric Fearon, Director of the University of Michigan's Rogel Cancer Center, gives all the credit to her. "Kathy has always had an outstanding ability to balance her professional and personal commitments and focus on the tasks at hand." he said. "She has a great passion for her family and friends, her Weimaraners, and living life to the fullest."
Cho's schedule continues to be extremely full. She is on the brink of finalizing the next phase of her research, and still signs out cases. Although she is no longer Chair, she remains active in education and administration with her position as Vice Chair for Academic Affairs. She is heavily involved in the department's move to the North Campus Research Complex and is excited about what the next year will bring. In a field that's constantly growing and changing with the newest technologies and discoveries, Cho is uniquely qualified to help the Department of Pathology lead the way.