Work from the Dou and Dressler Labs highlighted in Cancer Cell
By Elizabeth Walker | 9 October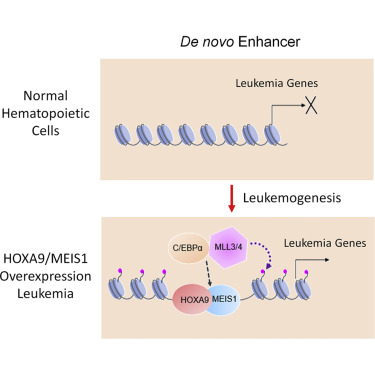 Graphical abstract. The laboratories of Dr. Yali Dou and Dr. Gregory Dressler have collaborated with colleagues at the National Institutes of Health, the Sloan Kettering Cancer Center, the Dana Farber Cancer Institute, and Indiana University to publish HOXA9 Reprograms the Enhancer Landscape to Promote Leukemogenesis in Cancer Cell.
This work is the culmination of four years of research which found that leukemogenesis driven by HOXA9 is accompanied by epigenome remodeling and that HOXA9 both mediates the establishment of de novo enhancers in leukemia cells and interacts with the MLL3/MLL4 histone methyltransferase complex. This new knowledge of the mechanisms of the role of HOXA9 and MLL3/MLL4 complex in leukemogenesis has the potential to positively impact patients with a broad range of malignancies with deregulated HOX gene expression.
Read the entire paper in Cancer Cell.