Announcing Dr. Carol Farver as New Director of the Division of Education Programs
By Charles Parkos | July 31 2019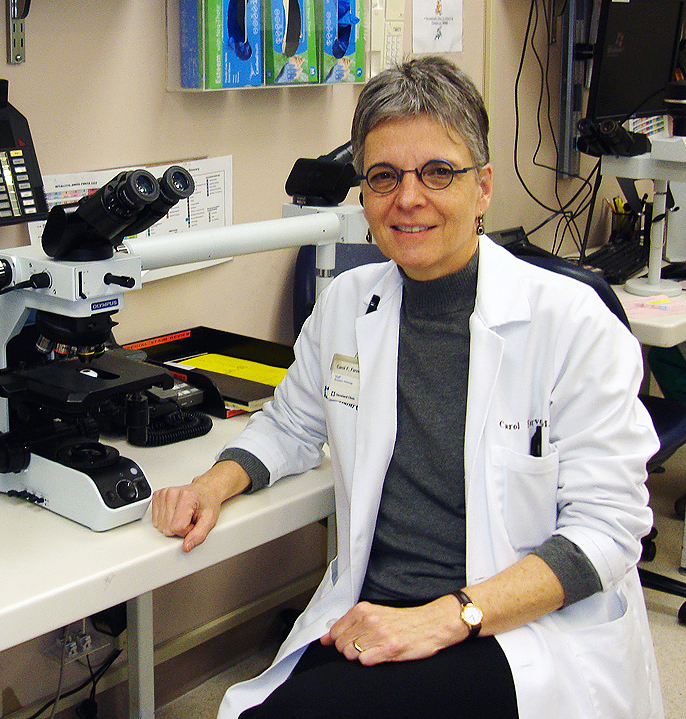 It is with great pleasure that we announce Dr. Carol Farver as Director of the Division of Education Programs effective August 1, 2019.
Dr. Farver was a long-time member of the Cleveland Clinic staff where she was Professor of Pathology in the Cleveland Clinic Lerner College of Medicine at Case Western Reserve University. Her Pathology career began in Boston where she completed residency training at Brigham and Women's Hospital, including one year as Chief Resident. This was followed by a Pulmonary Pathology fellowship at the same institution and the Harvard School of Public Health. After serving for one year at BWH as an Associate Staff Pathologist, she joined University Hospitals of Cleveland for two years before joining the Cleveland Clinic. Over the last two decades, Carol has distinguished herself as one of the world's leading authorities in Pulmonary Pathology. Her list of publications includes more than 140 peer-reviewed articles, more than 30 book chapters, and two textbooks. She has contributed her expertise as an invited speaker and/or visiting professor on more than 85 separate occasions.
Carol has also emerged as one of our discipline's most influential educators. At the Cleveland Clinic, she directed the Pathology Residency Program from 2001-2007, then led the Institute of Pathology and Laboratory Medicine as Vice-Chair of Education from 2007-2011. She has served on the Education Committees for the United States and Canadian Academy of Pathology (USCAP) and for the International Society for Heart and Lung Transplantation (ISHLT), and developed and co-directed the Masters of Science in Laboratory Administration (MSLA) joint program of the John Carroll University Boler School of Business and the Cleveland Clinic.
Carol earned a master's degree in Organizational Development from the Weatherhead School of Management at Case Western Reserve University and has gone on to create programs in leadership development for learners at all levels including medical students, residents, fellows, and faculty members. She was elected President of the Medical Staff at the Cleveland Clinic and to its Board of Governors and has served as Medical Director of the Samson Global Leadership Academy. She has co-directed two separate USCAP-sponsored leadership workshops including a residents' workshop entitled Leadership, Collaboration, and Healthcare and a two-day Emerging Leaders Workshop.
Dr. Farver's contributions have been recognized with an Excellence in Teaching Award at University Hospitals Department of Pathology and the John Beach Hazard Distinguished Teaching Award from the Institute of Pathology and Laboratory Medicine at the Cleveland Clinic. In 2010, she was awarded the First Annual Distinguished Achievement Award in Graduate Medical Education from the Association of Pathology Chairs, and in 2017 was the recipient of the Sam and Maria Miller Professional Excellence in Education Master Educator award from the Cleveland Clinic, given annually to one faculty member in recognition of outstanding dedication to teaching excellence and a sustained commitment to educational programs. It is hard to imagine a better fit with the opportunities unique to our own department and health system!
Please join us in THANKING our Vice Chair for Academic Affairs, Dr. Kathleen ("Kathy") Cho, who has served as Interim Division Director since the departure of Dr. Barbara McKenna in August 2017.
Please join us in WELCOMING Dr. Farver as the newest member of our Education Programs and Anatomic Pathology teams!