Jolanta Grembecka, PhD, Among 14 Inaugural Rogel Scholars
By Dustin Johnston | May 14 2019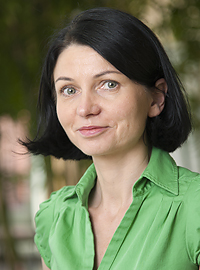 As part of the $150 million dollar commitment from Richard and Susan Rogel, researchers will have the opportunity and freedom to pursue new directions in their work. Jolanta Grembecka, PhD, from the Department of Pathology, was one of fourteen in the inaugural class of Rogel Scholars.
Dr. Grembecka's research focus is developing small molecule inhibitors of proteins involved in cancer, with a focus on inhibiting the interaction between the protein menin and MLL fusion proteins that cause acute leukemia.
Congratulations to Dr. Grembecka and the other thirteen Rogel Scholars!
To see the full list and read more, go here.