Steven L. Kunkel, PhD, Appointed Permanent Executive Vice Dean for Research and Chief Scientific Officer
By Lynn McCain | September 26 2019


Congratulations to Steven L. Kunkel, PhD, on his appointment as the executive vice dean for research and chief scientific officer of the University of Michigan Medical School, effective September 1, 2019, following a nationwide search for the best candidate. Kunkel previously served the medical school as the senior associate dean for research and was named the interim executive vice dean for research and chief scientific officer in October 2018.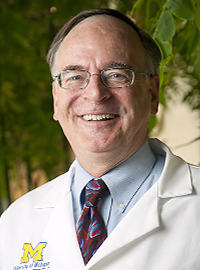 Kunkel is the Endowed Professor in Pathology Research and Peter A. Ward Distinguished University Professor. He joined the university in 1980 and has held various leadership and administrative positions, including the associate dean for interdisciplinary studies in the Horace Rackham Graduate School, interim dean of the Horace H. Rackham Graduate School, and interim vice provost for academic affairs.
As the Chief Scientific Officer, Kunkel will work with the research community to advance the growth of discovery science at Michigan Medicine, developing long-term strategies. He will also continue his own research, which is focused on assessing molecular mechanisms of lung inflammation by investigating cytokine-directed cell-to-cell communication circuits.
Please join us in congratulating him on this prestigious, well-deserved appointment.