Three From Pathology Honored at Michigan Medical School Dean's Awards Program
By Lidija Fremeau | November 18 2019


The Dean's Awards Program recognizes Michigan Medical School faculty and staff who demonstrate exceptional accomplishment in the areas of teaching, research, clinical care, community service, and administration. Congratulations to the three members of the Department of Pathology who were honored on November 13, 2019, at the annual Dean's Award Dinner:
Kaiser Permanente Excellence in Teaching
PRE-CLINICAL TEACHING
Madelyn Lew, MD, associate professor of pathology
The Kaiser Award is the most prestigious teaching award given by the Medical School.
The Office of Medical Student Education in the Medical School solicits nominations by faculty and students for the Kaiser Permanente Awards. Made possible by a grant from the Kaiser Foundation Hospitals, it consists of an honorarium and a certificate which is presented to each awardee at the Graduation Luncheon. Two awards are given each year — one for pre-clinical and one for clinical teaching. Faculty and students are asked to consider nominating those outstanding teachers who have demonstrated superiorteaching ability; accessibility or willingness to help students more than other teachers; enthusiasm and the ability to generate student enthusiasm; the ability to serve as an exemplary role model; and other traits nominators deem to be important.
Dr. Lew joined the U-M faculty in 2013 as an assistant professor of pathology. She also directs the Medical School pathology education curriculum. She currently serves a variety of educational roles, including pathology discipline lead, co-director of the Foundations of Diagnostics and Therapeutics Sequence, pathology lecturer in the endocrine sequence and co-director of the Diagnostics and Therapeutics Branch. She also has implemented several interactive technologic platforms to enhance pathology content delivery across several sequences in the scientific trunk. As part of the new medical student curriculum, she helped to develop a new pathology rotation within the Surgery and Applied Sciences Clerkship.
In 2017, Lew received the annual Resident Teaching Award. In 2018 and 2019, she received the Galens Society Elizabeth Crosby Award for most outstanding teacher in the basic sciences. In 2019, she also received the American Medical Women's Association Gender Equity Award.
Basic Science Research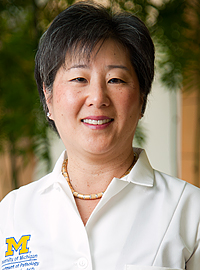 Kathleen R. Cho, MD, Peter A. Ward Professor of Pathology; professor of internal medicine and pathology, vice chair for academic affairs, pathology.
This award recognizes a scientist or group of scientists identified as having made outstanding contributions to the Medical School in basic biomedical science research.
The award carries a discretionary academic support prize given to the faculty member or group.
In early work, Dr. Cho's laboratory generated comprehensive molecular profiles of ovarian carcinomas, demonstrating distinct molecular profiles in ovarian cancer subtypes. Her group discovered that mutations dysregulating the canonical Wnt and PI3K/Akt/mTOR signaling pathways often co-occur in endometrioid ovarian carcinomas. Dr. Cho and her co-workers subsequently engineered novel mouse models of ovarian endometrioid carcinoma based on conditional inactivation of the Pten and Apc tumor suppressor genes.
More recently, her team has generated innovative mouse models of oviductal high-grade serous carcinoma, the most common and lethal type of ovarian cancer, that normally arises in the fallopian tube. These unique murine models are being used to study ovarian tumor biology and to explore novel approaches for prevention, early detection, and treatment of high-grade serous carcinoma.
Dr. Cho joined the U-M faculty in 1998 as an associate professor of pathology. After she became an associate professor of internal medicine the following year, she earned promotion to professor in both departments in 2002. She was named as the Ward Professor in 2007 and vice chair for faculty affairs in the Department of Pathology in 2014.
Community Service
Lee F. Schroeder, MD, PhD, associate professor of pathology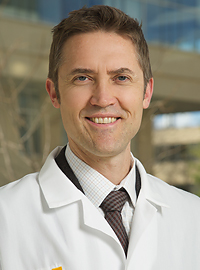 This award recognizes Medical School faculty who contribute to the local, national orglobal community in an extraordinary fashion.
The Dean's Office is soliciting nominations for the Community Service Award. This award carries a discretionary academic support prize for the faculty member or group.
In addition to his duties as a clinical pathologist, Dr. Schroeder has developed an international reputation for landscaping and improving diagnostic testing in low-and middle-income countries. His solutions stand to substantially expand access to appropriate testing for some of the world's poorest populations.
The World Health Organization has maintained the Essential Medicines List for the last four decades. He published a methodology and advocated for the creation of an Essential Diagnostics List. It was updated in 2019 and India became the first country to adopt it. In a parallel effort, through a Bill and Melinda Gates Foundation Grand Challenges Exploration grant, he has partnered with Ghanaian colleagues to develop an on-demand laboratory specimen courier network in Ghana, organized through a suite of mobile phone apps, which is improving access to antenatal and surveillance testing in northern Ghana. Finally, he has National Institutes of Health funding to conduct a national-scale study to survey, model, and optimize the Ghanaian tiered laboratory network to address diseases of public importance.
Dr. Schroeder joined the U-M faculty in 2014, and was promoted to associate professor of pathology in 2019.