Faculty Spotlight: Sean Ferris, MD, PhD
By Lidija Fremeau | December 10 2019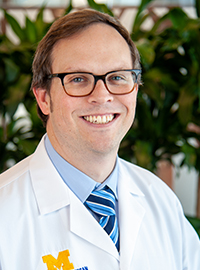 In September of 2019, Sean Ferris, MD, PhD, moved his family from San Francisco to Ann Arbor to join the Department of Pathology as an assistant professor specializing in neuropathology in the division of anatomic pathology.
While his young children are experiencing snow and winter for the first time, Dr. Ferris is no stranger to the local climate. He was at the University of Michigan for his MD/PhD from 2005-2015. When asked why he decided to return to the U-M, he easily replied, "When I was here for my schooling, I found within the first couple of years that I really like it here." He went on to say that he enjoys the City of Ann Arbor and all that is offered here. Beyond that, he appreciates the expanse of excellent clinical and research work being done here. It's the top institution in a part of the country he really likes.
Getting settled into a routine, Dr. Ferris finds that half of his day is spent doing clinical work which involves looking at patient tissue on glass slides. He also spends time writing reports and making diagnoses that clinicians can then use to further treat their patients. The rest of his day is spent in consensus meetings to review cases with the neuropath team, working on research cases, reading, writing, and then looking under the microscope at more tissues. To maintain this schedule, he drinks a lot of coffee.
Coffee isn't the only necessity Dr. Ferris keeps in his office. He also uses Bluetooth headphones to stream music. His favorite bands include Grateful Dead, Phish, LCD Sound System, and The National. Music has always been a part of his repertoire. He used to play the trombone and stand-up bass. He "messes around" on guitar and ukulele as well. Not one to sit idly, he played rugby at Brown, and also for the men's rugby club in Ann Arbor.
For the PhD portion of his training at U-M, he studied protein misfolding, specifically, the questions surrounding what makes a protein fold correctly or become degraded. He then wanted to apply this interest to the growing occurrence of dementia, so he became interested in studying neurodegenerative disease through examining donated brains from deceased patients.
Moving forward, Dr. Ferris plans "to focus on neurodegenerative disease research in autopsy tissue, hoping to investigate genetic and protein-based mechanistic aspects of neurodegenerative disease." He is also looking forward to getting deep into the brain tissue bank. He is eager to work with the Alzheimer's Disease Research Center's brain bank to optimize the collection of autopsy brain tissue for distribution to other researchers at the U-M.
As winter creeps in, Dr. Ferris will stay active downhill skiing and cheering on the Wolverines and Boston Celtics throughout basketball season. He'll be immersing himself into his work and research. If you happen to visit him at his NCRC office, be sure to knock twice in case a good song is playing on his earphones.