New Start Up Aims to Target Inflammatory Bowel Disease
By Elizabeth Walker | February 17 2020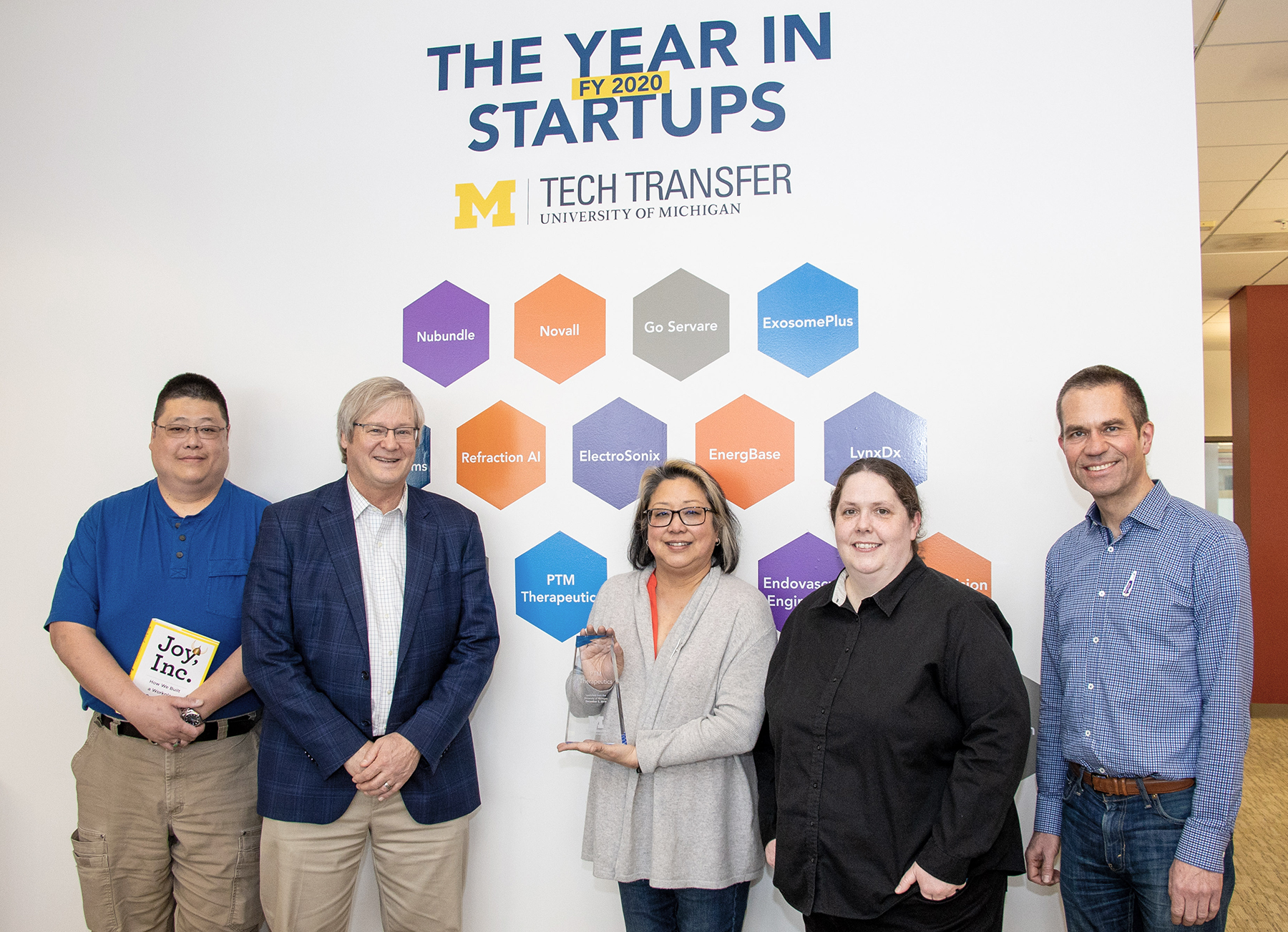 PTM Therapeutics, Inc. celebrated on February 6th the signing of an exclusive license for an antibody (PTM-001) jointly from the University of Michigan and Emory University during a bell-ringing ceremony at University of Michigan Tech Transfer. The startup is developing this antibody, which has a novel target, as a therapeutic for the treatment of Inflammatory Bowel Disease (IBD).
There is a growing prevalence of IBD in North America and IBD is a $6.7 billion global market. Around 70% of Crohn's Disease patients and over 25 – 33% of Ulcerative Colitis patients eventually require surgery. PTM-001, in development by PTM Therapeutics, is unique in the field of IBD therapeutics. Whereas all currently approved IBD treatments target and suppress the patient's immune system to ameliorate IBD systems, PTM-001 directly aids the healing of inflamed and ulcerated gut mucosa by selective binding to glycans on inflamed mucosal epithelium. Mucosal wound healing predicts superior prognosis with lower hospitalization rates, clinical remission and resection-free survival. The team expects to begin clinical testing within 2 years. The PTM Therapeutics founding team consists of Jennifer Cheng PhD, JD; Tony Liang, Charles Parkos MD, PhD; and Jennifer Brazil PhD.
Jennifer Cheng PhD, JD, who is the CEO, has over 15 years of biotech experience including executive management and operational roles. She has over 15 years of IP prosecution/strategy experience and was previously General Counsel at Adverum Biotechnologies.
Tony Liang is the VP of Research. Liang has over 20 years of biotech drug development experience. Before joining PTM Therapeutics, he was the protein chemistry lead on RAV12, an anti-glycotope antibody for colon cancer treatment at Raven Biotechnologies.
Charles Parkos, MD, PhD, is the Carl V. Weller Professor and Chair of Pathology and a leader in mucosal inflammation and epithelial pathobiology at the University of Michigan. He has over 30 years of experience in research on neutrophil and gut epithelial biology and has made many seminal contributions to the field. PTM-001 is being developed as a humanized form of an antibody that was produced in Dr. Parkos' lab. Over the past two decades, he has had many leadership roles at the Crohn's & Colitis Foundation and the American Society of Investigative Pathology.
Finally, Jennifer Brazil, PhD, is an Assistant Professor of Pathology at U-M and expert in the role of glycans in neutrophil migration and mucosal repair. She has been working in collaboration with Dr. Parkos on the characterization and elucidation of the biology of the antibody being developed as PTM-001 since 2010.
For more information about PTM Therapeutics, please visit www.ptmthera.com or email at contact@ptmthera.com.