Broadening the Scope: A Qualitative Study of Pathologists' Attitudes Toward Patient-Pathologist Interactions
By Camren Clouthier | May 5 2021


A study by members from the Department of Pathology was just published in the American Journal of Clinical Pathology. Led by Dr. Cathryn Lapedis, the study also features prominent contributions from Drs. Lauren Kroll-Wheeler, Scott Owens, and the Department's former Multimedia Designer and Social Media Manager, Dustin Johnston.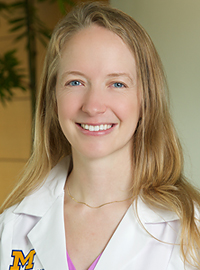 The study was initiated as a way to qualitatively explore and describe pathologists' attitudes toward patient interaction. "The goal of our study was to understand the attitudes of pathologists toward interacting with patients by showing patients their slides and discussing their pathology report," explains Lapedis. "We used a qualitative thematic approach to analyze the data obtained from the open-ended question, which was designed to capture the attitudes of pathologists who may or may not be interested in meeting with patients in order to discuss their pathology report and to show them a slide of their tissue."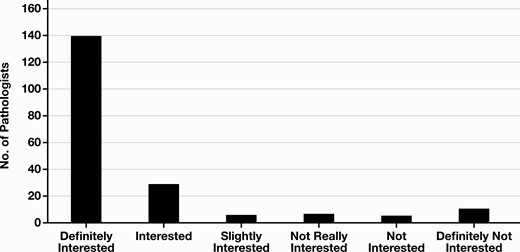 Initially, surveys were performed via Twitter, through the Department's social media handle, @UMichPath. Tweets linked to a survey created using the Qualtrics software. In this survey, intended specifically for pathologists, the researchers posed the question: "How interested would you be in meeting with patients to discuss their pathology report and show them microscopic images of their tissue?" Then, experts asked "Why?" followed by a free-text box, where participants could include their own thoughts. Ultimately, the team asked various pathologists to assume that their time would be adequately compensated and that patients' treating clinicians had already told them about their diagnosis. In all, 197 pathologists were surveyed, approximately 86% of whom were either "definitely interested" or "interested" in meeting with patients. Results showed that interest level did not differ by age, gender, or rank, but was higher in academic practices than in community practices.
"To establish a real and fruitful relationship between the pathologist and patient is what gives rise to better results."
Qualitative thematic analysis showed that pathologists believed that meeting with patients could impact patients through cognitive and emotional pathways; as one junior pathologist from an academic practice comments, "I think pathologists can offer patient's a different perspective-- show them their tumor/cancer so they can see with their own two eyes." Pathologists also identified a potential impact to individual pathologists through patient contact and job satisfaction; as one pathology trainee in academic practice notes, "It would give pathologists a fulfilling reason to get up in the morning and would probably regenerate our motivation to complete the less interactive parts of our work." Finally, pathologists expressed the potential for impact to the field of pathology in areas of the image of pathology and quality of care; as one pathologist states, "To establish a real and fruitful relationship between the pathologist and patient is what gives rise to better results."
In addition to the benefits described by the majority of respondents, some pathologists raised important concerns regarding the potential for patient confusion, the potential for decreased pathologist job satisfaction to the burdens of patient interaction, and the potential for mixed messages between the pathologist and the clinician.
Work is ongoing to better understand and address the concerns received from the study. Work in progress also includes a qualitative study to understand clinician attitudes toward patient-pathologist interactions, and a pilot of the role of a pathology explanation clinic for men with low-stage prostate cancer supported by the AP projects fund.
Patients looking to learn more about pathology and the whole process of getting from a biopsy to a diagnosis can reference the comprehensive video created by the department's Patient and Family Advisory Council (PFAC) and Dustin Johnston.
"We thank the pathologists who took the time to share their voices and opinions," concludes Lapedis.
—
The full publication within the American Journal of Clinical Pathology is available here. A similar publication also appeared in Michigan Medicine Lab Blog on 10/10/2019.