Department Hosts Second-Annual Juneteenth Equality Walk
By Camren Clouthier | June 21 2021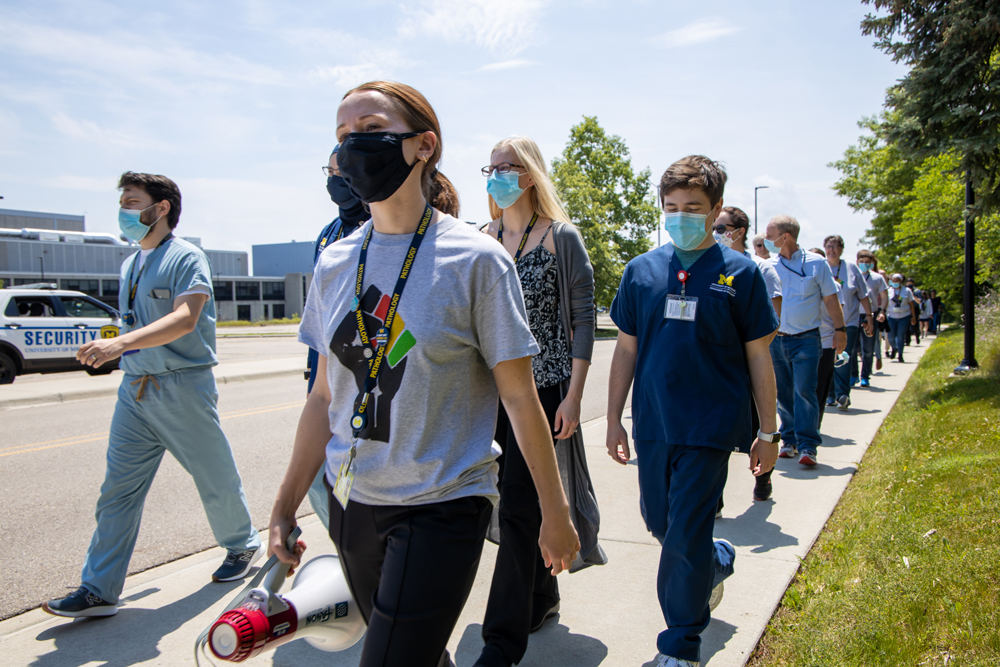 On Friday, June 18, the Department of Pathology hosted its second-annual Equality Walk at the North Campus Research Complex in observance of the Juneteenth holiday. The event, which included over 60 faculty, staff, residents, and fellows, saw members stand up against racial discrimination and in support of equality for all. The walk included a trip around the outside of NCRC and featured an 8-minute, 46-second kneel to honor the legacy of George Floyd.
Jenna Koelsch, a Medical Laboratory Scientist from the Clinical Microbiology lab led the march for the second straight year. "As a laboratory scientist, public health is really at the center of why I do what I do," she explains. "In order to keep the public healthy, it is also important for healthcare access to be racially equitable. Advocating for anti-racism within our institutions is one way we have power to address systemic racism."
Dr. Jeffrey Myers, Vice Chair of Clinical Affairs and Quality, noted that the event "demonstrates the department's solidarity and ongoing commitment to ending racial injustice."
Another key contributor to the event was Executive Assistant Shirley Hoffman, who was responsible for ordering merchandise including t-shirts and buttons to pass out to supporters. "Departmental support for the Equality Walk shows that leadership is not only open to, but encourages having the necessary difficult conversations about the inequalities that plague our human community," Hoffman says. "It paves the way for every person to be seen and every voice to be heard, and I'm incredibly grateful to be a part of a department that acknowledges the injustices [that] many people face." All in all, the affair raised over $1,200 within a GoFundMe campaign that benefits We The People Opportunity Farm.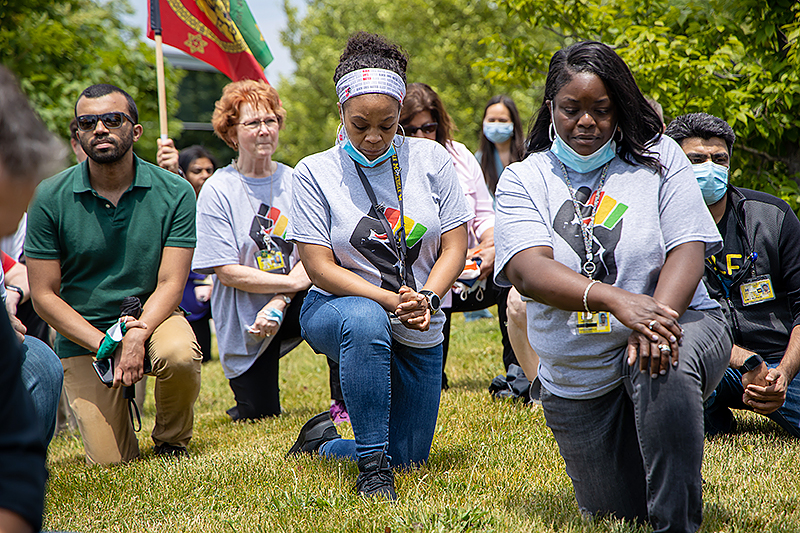 Department Chairman Dr. Charles Parkos also participated in the Equality Walk. "The commemoration of Juneteenth represents an important step toward acknowledging and confronting the implicit biases and deeply rooted racism that persist in our country," he stated. "Our Annual Walk for Equity is one means of raising awareness of these problems as we work together to form a more equitable nation."
Koelsch concludes by discussing the overall impact of the Equality Walk. "Michigan Medicine has chosen to take responsibility for racism in our institutions. Part of that involves advocacy and activism via events like the Equality Walk," Koelsch describes. "When I proposed the idea for the Equality Walk, I received so much support and gratitude. To have a team that takes the time and thoughtful effort to prioritize events like this, there is nothing quite like it."
—
A recap video of the 2021 Equality Walk is available here.