Department of Pathology Represents at NAME 2021
By Batoul Aoun | October 29 2021


The Department of Pathology was well represented at the 55th Annual Meeting of the National Association of Medical Examiners (NAME) held on October 15-19, 2021. This year's event was held in person at the Hilton West Palm Beach in West Palm Beach, FL. There was also an on-demand virtual option for those who couldn't attend the conference in person. The meeting provided an international forum for discussion of a broad range of issues pertaining to forensic pathology and death investigation. The event featured hundreds of platform and poster presentations from forensic pathologists, pathology trainees, forensic anthropologists, toxicologists, and medical students. Several of our faculty and trainees were featured at this year's conference. Let's recap the amazing presentations given by our very own faculty and trainees at #NAME2021.
---
Platform Presentations
Dr. Jeffrey Jentzen, Active Emeritus Professor, Forensic Pathology - Into the Looking Glass: The Creation of Non-Physician Medical Examiners in Wisconsin
Dr. Carl Schmidt, Professor, Forensic Pathology - Results of the Automation of the Tissue Donor Referral Process in an Urban Medical Examiner's Office
Dr. Michael Caplan, Associate Professor, Forensic Pathology - Some Insights Into Expanding the Role and Enhancing the Meaning of Academic Forensic Pathology
Dr. Catherine Perez, fourth-year resident & 2022-2023 forensic pathology fellow - Complex and Complicated Suicide: An Analysis of Suicide Cases From One Academic Institution and a Literature Review
Dr. Batoul Aoun, third-year resident & 2023-2024 forensic pathology fellow - Two Cases of Fatal Thrombotic Complications Following Ad26.COV2.S Vaccine
Poster Presentations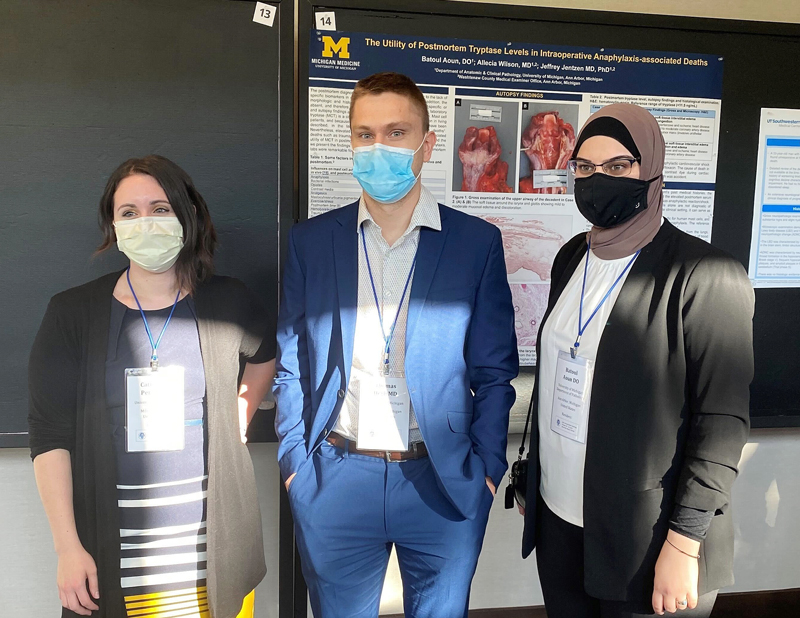 Dr. Eleftherios Vouyoukas, 2021-2022 forensic pathology fellow - Virtual Education in Forensic Pathology: Wayne County Medical Examiner's Office Experience
Dr. Batoul Aoun, third-year resident - The Utility of Postmortem Tryptase Levels in Intraoperative Anaphylaxis-Associated Deaths
Dr. Thomas Herb, second-year resident - The Role of the Forensic Pathologist in Aviation Deaths
—
Special Acknowledgments to Drs. Allecia Wilson, Leigh Hlavaty, LokMan Sung, Omar Rayes, and Teresa Nguyen for assisting the trainees with their presentations and for their constant support and mentorship.
The NAME 2021 Conference was a success offering a broad range of interesting and educational forensic topics, as well as creating a networking opportunity for all those interested and working in the diverse field of forensics. The NAME 2022 annual meeting will be held October 14-18, 2022 in sunny Dallas, Texas.