Alan Machcinski retires after more than 47 years
By Lynn McCain | January 18 2022


On January 21, 2022, the Department of Pathology will bid a fond farewell to long-time staff member, Alan Machcinski. Alan joined the Department of Pathology in September 1974, working in our microbiology lab, where he performed microbial susceptibility testing. With a degree in philosophy, Alan never intended to spend his career in the Department. But like many others, once he joined our team, he never left!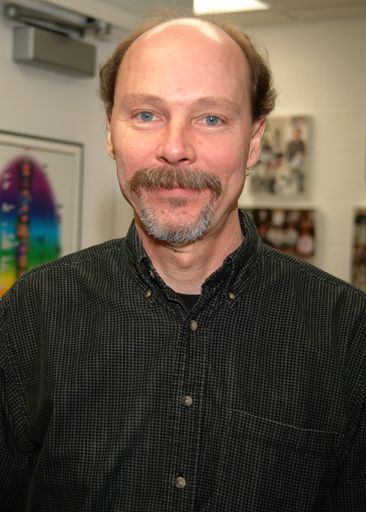 After pursuing a BS degree in computer science and mathematics with some graduate work in artificial intelligence, Alan transitioned to Pathology Informatics in 1999, where his natural methodical and analytical talents combined with his educational background were ideally suited to his position as a Business Systems Analyst. One of his major achievements was the support and implementation of the MLabs Atlas solution. "Alan was able to identify gaps in the data flow process and implement solutions to improve the interfaces wherever possible," recounted Kathy Davis, former PI Administrative Director. "He supported his plans with flowcharts and shared the solution with the team." Dr. Ul Balis, Director of Pathology Informatics, added, "In the early days of deploying Atlas Lab Connect, the software tool that the department's MLabs division utilizes to support a myriad of external reference lab clients for orders and results, Alan's expertise and efforts were instrumental in initially configuring and deploying this tool. Up to that point, no lab of our size and complexity had been deployed on this platform. Alan was able to make that happen, working tirelessly with the developers at Atlas. This effort took place during the early days of web-based applications, and a big part of his efforts were allocated to simply wrestling with Microsoft's Internet Explorer web browser to get it to complete mundane tasks, like simply printing labels. In the end, Alan made everything work. He was our Microsoft lion tamer."
He also provided support for many of the molecular labs in Pathology, some of which had never been fully computerized. He worked closely with Javed Siddiqui from the Michigan Center for Translational Pathology to create a full workflow solution for this unit, which previously had only a reporting function.
In addition to his talents, Alan is also a very nice person. He is very much a family man and went to lengths to ensure their well-being. "I recall a time when he had to meticulously detail out a plan for his daughter to ride a city bus to wherever she needed to go," smiled Davis. "I am certain that if she followed Alan's instructions, that she arrived safely!" With his retirement, Alan will now have the freedom to enjoy his passions – his wife Karen, his family, horses, and camping.
Thank you, Alan, for dedicating 47 years to Pathology! Your contributions are many and you will be missed. We wish you a long, happy, and fulfilling retirement.