Department of Pathology Soars at USCAP 2022
By Camren Clouthier | April 1 2022


This month marked the 11th United States and Canadian Academy of Pathology (USCAP)'s Annual Meeting. This year's hybrid-style event was held both in-person and virtually in Los Angeles, California from March 18-24, 2022. The symposium featured several short and long courses, as well evening specialty conferences and ticketed seminars. The conference also included numerous poster sessions, live Q&A segments, and a multitude of social events. Michigan Medicine's Department of Pathology shined as several of our faculty, residents and fellows participated heavily in this year's meeting. Let's take a moment to reflect on some of the top moments from #USCAP2022.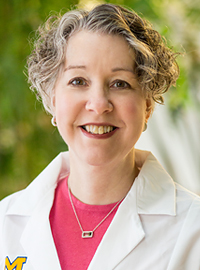 USCAP President and Pathology faculty Dr. Laura Lamps said of the event, "it was really wonderful to be back at an in-person meeting, and U-M was well-represented." Lamps mentions some additional highlights, which included the opening keynote Maude Abbott lecture on the molecular diagnosis of sarcomas, the Timely Topics lecture on making pathology laboratories more "green," and the concert by the USC Marching Band, along with the "Brain Bash" party.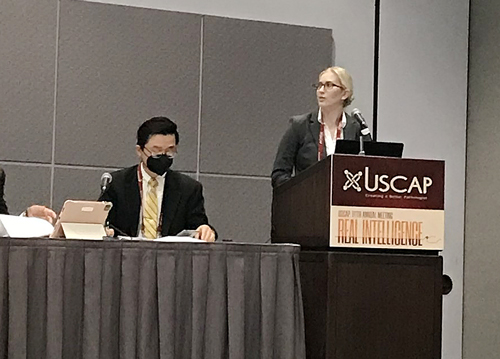 Dr. Liron Pantanowitz, Director of Anatomic Pathology, was also a key participant in several USCAP sessions. He gave many led many seminars and lectures over the course of the week, primarily geared towards Digital Pathology, with one of the evening courses specifically aimed at Cytopathology. This lecture focused on making challenging hematopathology diagnoses from cytology specimens. "It was great to connect with real people in person again," Pantanowitz said. "This year the topic of Digital Pathology and AI was noticeably present in the abstracts, talks and exhibit hall. I am extremely proud of our department's participation because not only were we well represented as speakers, moderators, and during the platform and poster sessions, but several of our trainees received awards this year."
Speaking of awards, Cytopathology fellow Dr. Xiaobing Jin was recognized twice during USCAP for his platform presentation. Dr. Jin won both the Physician-in-Training Award from American Society of Cytopathology and the Second Resident Research Award from Papanicolaou Society of Cytopathology. Congratulations to Dr. Jin on these terrific accomplishments!
Third-year trainee Dr. Julianne Szczepanski, with assistance from other residents including Drs. Jaclyn Plotzke, Haley Amoth, Batoul Aoun, Ashley Brent, Elaina Daniels, Justin Kelley, Lauren Kroll-Wheeler, and faculty members Drs. Ania Owczarczyk, Alexander Taylor, Lauren Smith and Cathryn Lapedis, presented on the Diversity, Equity and Inclusion (DEI) efforts within the poster session of the conference. "With a newborn at home this year, I was so glad that USCAP provided the option of an online experience," said Szczepanski. "While I sorely missed the sunny LA weather and seeing my colleagues in person, I was still able to watch some amazing online content, connect with colleagues, and even participate in poster presentations remotely. My favorite part of USCAP is being able to see new and exciting frontiers of pathology, especially among such talented budding pathologists!"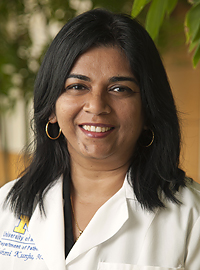 Dr. Priya Kunju noted that it "was an outstanding meeting with great sessions providing high- yield learning." She relished being able to meet up with old friends and even make new friends. "All of the posters and presentations by our talented trainees and faculty were awesome, too." she adds.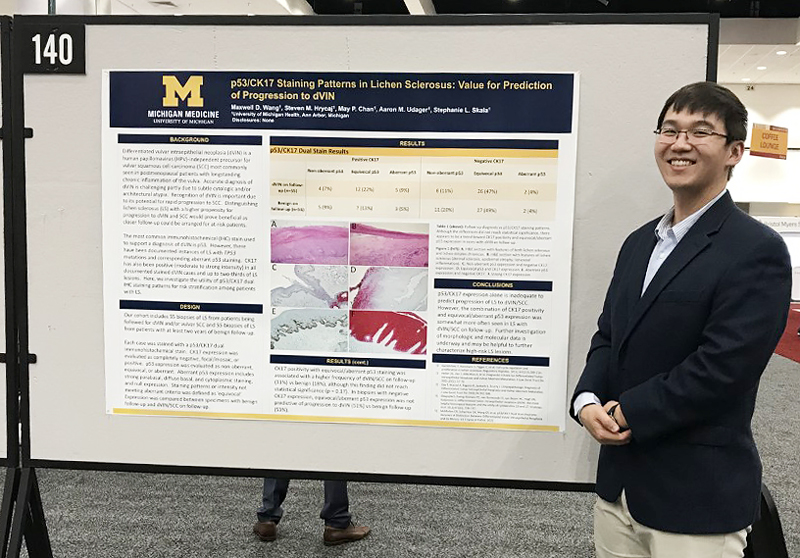 Dr. Rohit Mehra also contributed to a number of sessions over the course of the week. "Congratulations and thanks to our Pathology and MCTP teams for wonderful contributions enhancing pathogenetic insight and advancing clinical care for our patients with genitourinary malignancies," said Mehra.
Other prominent faculty who participated at this year's USCAP sessions included Drs. Rajiv Patel, Nicole Tomm, Kristine Konopka, Douglas Rottmann, Eman Abdulfatah, Priya Kunju, Angela Wu, Maria Westerhoff, David Chapel and Paul Harms.
Overall, the 2022 USCAP Annual Meeting was a massive success, demonstrating outstanding expertise and insight from top-notch pathologists, all while providing educational opportunities, and access to new connections from all across the country. USCAP 2023 is slated to be held from March 11-16, 2023 in New Orleans, LA.
—
A video recap of the 2022 USCAP Annual Meeting can be seen here.