From Red to Blue
By Lidija A. Fremeau | October 20, 2022


Nebraska native, David Golden, shucks Scarlet and Cream for Maize and Blue as he moves up the ranks in Pathology.
When Nebraska plays U-M, Omaha native David Golden wears maize and blue. Though his Bachelor of Science in Biology and his Master of Business Administration are from the University of Nebraska - Lincoln (UNL), he has been a faithful and respected employee of U-M since 1990. The chant of "Go Blue" struck David's ears as unusual at first, seemingly lacking a syllable after years of "Go Big Red." David feels that the Wolverines certainly deserve his loyalty now. He was originally hired to computerize zoological collections at the Museum of Zoology on the main campus. In January 1994, he transitioned to Michigan Medicine's Department of Pathology.
David Golden is the Director of Finance in Pathology, while also filling in as the Department's Interim-Chief Department Administrator (CDA) following the unexpected death of Marty Lawlor in October 2021. David described Marty's leadership during a Zoom interview saying, "Marty was not somebody who micromanaged. He trusted the people around him and let us make decisions. We'd ask 'Are you okay with that?' And usually, the answer was 'yes.' He understood pathology very well, and how to get things done." In contrast, David describes himself as more detail-oriented. "Marty was a big-picture guy. I'm more operationally focused. I'm a numbers person. This is how we differed. I'm not a micromanager, but I like to understand the details. I have to in order to do my job well." This has required a shift and how he approaches his job since becoming the interim CDA.
"He always makes time. He juggles it all."
Regina Ferguson, Pathology Facilities Manager for Clinical & Research Pathology, fully appreciates David's efforts as he manages both roles. "We all knew Marty, we see visions of him passing in the hallway. When Marty got sick, we all jumped in together. What do we need to do?" In particular, she notes David's willingness to dive in. "It was needed; he just did it." And even with him pulling double duty, if she asks David for a moment, "He always makes time. He juggles it all."
Dr. Jeffrey Myers, Vice Chair for Clinical Affairs and Quality, adds, "David's calm, 'can-do' approach has not wavered despite the pressures that he inherited as interim CDA. He is serving during a time of unprecedented demand for a role already spread too thin, and in all of it maintains the same level of respect, kindness, and 'aw shucks' country boy modesty that is his brand. Truth is, David could and should serve as a role model for others who aspire to this role permanently."
With this additional level of responsibility, David definitely has more on his mind these days, and sleep is a little tougher to come by. With a cup of coffee in hand, David starts each morning by reviewing his emails and planning what he wants to accomplish each day. David's day is spent meeting with a wide variety of individuals from across the Department and Michigan Medicine. His day can go in any number of directions depending on what is needed to keep the department operations running. His added role has changed his language. He used to make statements such as "This is what I think is happening." Now, he says "This is what we're doing."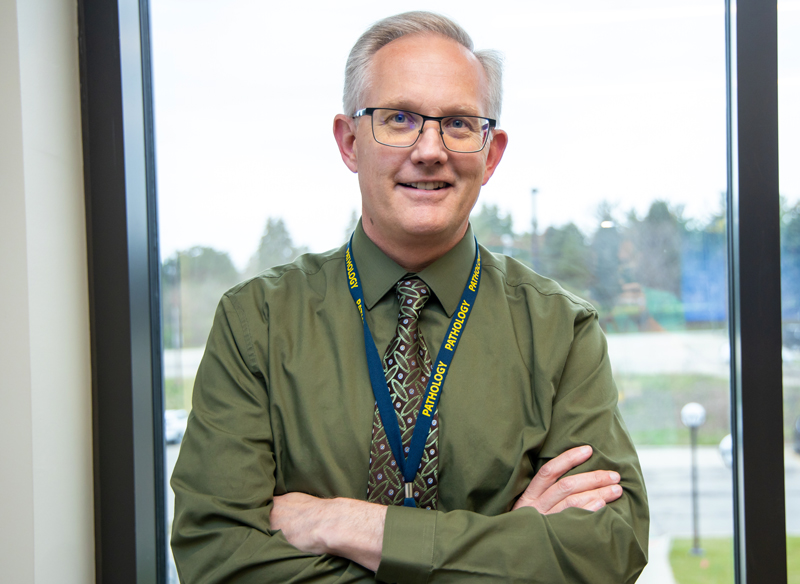 David is grateful to a long list of people who have helped him transition into a dual role executive. Both Kristina Martin and Christine Rigney, Directors of Operations, Division of Clinical/Anatomic Pathology respectively, have helped fill in the gaps on the clinical side of things with which he hadn't much prior experience. Additionally, "I've relied heavily on my own staff: Kristina Andoni, John Harris, Christine Shaneyfelt, Sarah Dudley-Short, Nancy Parker, Jennifer Mattison, Rebecca Roberts, and Mike McVicker. They've reported to me, and I've shifted the work to them now."
He credits Regina Ferguson, Peggy Otto, and Yvonne Beadle with helping him to prioritize the many demands for his time. Support for David comes from many angles, including from Chair Dr. Charles Parkos, Vice Chairs Dr. Jeffrey Myers and Dr. Kathleen Cho, the department's Division Directors and the rest of the faculty. Matthew Comstock, Executive Director for Administration of U-M Medical School, Tony Denton, Senior Vice President and COO of UMHHS, and Scott Marquette, Associate COO for UM Health Operations and Safety Preparedness have also reached out to ask how it's going, to inquire if David has any questions or needs any help.
This network is what keeps David inspired. "I spend a lot of time with these people, and they're family. I think that inspires me to support our faculty to the top of their level and provide them guidance and a pathway to success." Likewise, when asked what his proudest accomplishment has been, he thought for a moment and replied, "The team that I've built. Some people have been working for me nearly the whole time. They make my job a pleasure to come to every day. I am most proud of the people I've hired and inherited."
"I spend a lot of time with these people, and they're family. I think that inspires me to support our faculty to the top of their level and provide them guidance and a pathway to success."
The feeling is mutual. Christine Shaneyfelt, the Senior Financial Analyst, who has reported to David for fourteen years, describes David as a "supportive, respectful, and appreciative leader. Working for David has been a pleasure as his approach is easy going and it makes the workplace feel a bit less stressful, especially during the ever-changing environment. David is also compassionate. While dealing with a very tragic event a couple of years ago in my life, he would check in to see how things were going - if there was anything he could do or if I needed any help with work. This was very much appreciated and helped lessen the stress I was feeling at that time."
With a nearly thirty-year history in the Pathology department, it seems almost intuitive that David has stepped up to fill in as Interim CDA. He described a much smaller department when he first started. The job included billing in pathology. "We used to run our own billing office. Everything was centralized. We used to post payments. We don't do that anymore. Claims processing and payment posting have been centralized outside the Department." As the department has grown, and managers have left, he has progressively assumed roles and responsibilities. David has gone from managing a section of the finance office to the entirety of the department.
In his youth, David thought he wanted to be a medical doctor. In high school, a love of biology was born, and David had intended to study Ichthyology, the study of fish, in graduate school.
As an undergraduate student at UNL, he wrote and published "An Ichtyological Survey of Weeping Water Creek, Nebraska" in 1987 while studying in Dr. John D. Lynch's research laboratory. Ultimately, David chose to pursue an MBA for graduate studies because "it would yield more opportunities and provide better financial security." Pursuing an MBA has served him quite well.
David and his wife Krista Golden, M.S. met at Cedar Point Biological Station, not to be confused with the amusement park 115 miles from North Campus. David spent five weeks at this Western Nebraska facility, taking classes to get to graduation a bit sooner. The young couple moved to Ann Arbor where the weather is not as extreme as Nebraska. They were well-equipped to handle the moody Michigan seasons with ease. Though David used his blended interest in biology and numbers to end up in the Pathology department, Krista stuck with pure science and is currently a Research Laboratory Specialist for the Desch Lab researching blood disorders, specifically thrombosis, and hemostasis.
The Goldens have sent their two adult daughters out to the world. One is pursuing a screenwriting career in Los Angeles. The other, a professional chef, has a catering and food truck business in the Lake of the Ozarks. These "kids" were front of mind when asked if David had a moment to spend with the twenty-year-old version of himself, what would he advise? "Things are going to turn out pretty good, really. Don't worry about the small stuff. Enjoy the time you have with your kids. It's so much work, and now I miss it. I have to call them instead of seeing them every day. There were so many activities around the kids: dance lessons, gymnastics, soccer, and piano. I had so much fun doing that. I miss that stuff."
There is more to David than just finance and making decisions for the department. The empty nesters enjoy their evening walks with Lucy, the family's 13-year-old Whoodle: Wheaton Terrier and Standard Poodle mix. Golf is a biweekly pursuit for David at Radrick Farms Golf Course. Soon, perhaps another sailboat will enter the scene. David learned to sail when a friend needed a crew member for Wednesday night races on Lake Erie. He was quickly hooked. As a couple, the Goldens enjoy traveling and have adopted a Michigander's appreciation for "up north" and the west coast of the state.
David considers himself introverted and private. Spending nearly an hour talking about himself was likely not his favorite pastime. His energy shifted when he spoke of his family members and coworkers. He certainly preferred to talk about them more than himself. Regina Ferguson calls him a gem. "Talk about a down-to-earth individual who cares about the person. Family is important. And he and his wife care. That carries into the professional life." David has now lived in Ann Arbor for more years than he did in Nebraska. He has raised a family at home and cultivated a warm, trusting, and sincere atmosphere around himself at Michigan Medicine Pathology.