Inspiring Young Healthcare Leaders of the Future
By Anastazia Hartman | May 22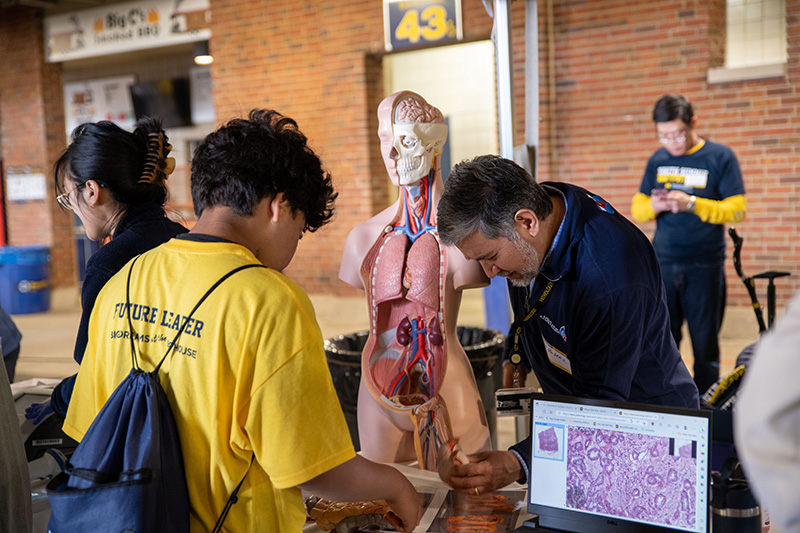 Over the weekend, the Department of Pathology partnered with the Office of Health Equity and Inclusion and other Michigan Medicine departments to inspire the next generation of healthcare leaders. The second annual Youth Summit at the Big House was inspired by the documentary Black Men in White Coats. This day-long event provides middle school students from across Southeast Michigan an opportunity to learn more about health sciences, and the diverse teams within Michigan Medicine's healthcare system.
Karen Barron, Allied Health Education Program Manager, led the departmental team of faculty and staff as they guided students through multiple hands-on simulations that showcased the vast array of work completed within the field of pathology. The pathology station allowed students to try out microscopy, learn about urinalysis, and practice phlebotomy on a fake arm. Students also had an opportunity to learn more about the body's organs with a hands-on model and photos depicting kidneys and kidney stones. "It was gratifying to hear one of the students say 'I feel like a scientist, like on TV!', said Barron. "This was exactly our goal at the Youth Summit: provide a window for these students to see into what we do in healthcare and a mirror for them to see themselves as future medical laboratory professionals."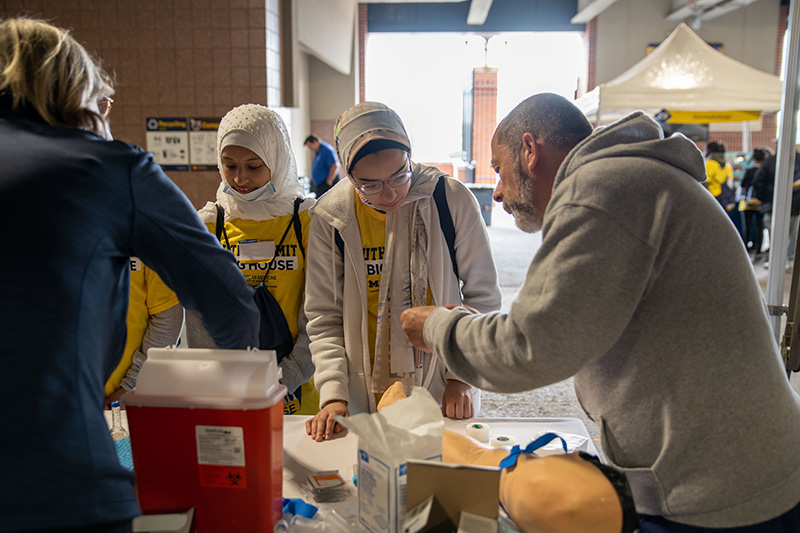 Helping students learn more about phlebotomy was Juan Torres, Phlebotomy Training Specialist, who loved the opportunity to highlight his love for his role. "Being able to feel the curiosity in the sincere look of the children and being able to be a dream initiator character, transported me back to that stage of life where everything is possible, and the world only exists to be conquered."
Also among the pathology volunteers was Dr. Angela Wu, Assistant Chair for Diversity, Equity and Inclusion. "It was inspiring to see so many kids who were curious and engaged. Hopefully, we inspired future generations of medical professionals."
Now an annual event the Department of Pathology looks forward to continuing to educate others on the field of pathology.
—
Thank you to our volunteers who made this year's Youth Summit a success!
Karen Barron, Allied Health Education
Keisha Beck, Quality Project Manager
David Gordon, Pathologist
Joanne Guan, MLS-Point of Care
Anastazia Hartman, Communications
Justin Kelly, Hematopathology Fellow
Kristina Martin, Operations
Christine Rigney, Operations
Alexis Snyder, Pathologist's Assistant
Juan Torres, Phlebotomy Training Specialist
Riccardo Valdez, Pathologist
Angela Wu, Pathologist