Dr. Arul Chinnaiyan Recognized for Outstanding Achievement in Pathology
By Lynn McCain | June 28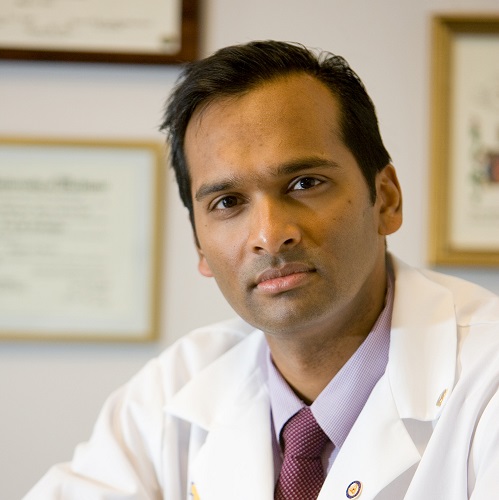 Dr. Arul Chinnaiyan, S. P. Hicks Endowed Professor of Pathology and Professor of Urology at Michigan Medicine Department of Pathology and Director of the Michigan Center for Translational Pathology, was recently recognized for his outstanding achievements by the American Association of Cancer Research. He was presented with the AACR James S. Ewing-Thelma B. Dunn Award for Outstanding Achievement in Pathology in Cancer Research award at the 2023 AACR Annual Meeting.
This award, named for the AACR's first president, James S. Ewing, MD, and the AACR's first female president, Thelma B. Dunn, MD, both pathologists, "serves to recognize and celebrate pathologists who have significantly contributed to advancing cancer research, diagnosis, treatment, and prevention." Chinnaiyan, who is a Fellow of the AACR Academy, was chosen for this prestigious award "for illuminating research contributions to defining the links between chromosomal abnormalities and cancer, including his discovery of TMPRSS2-ETS gene fusions in prostate cancer, and for pioneering the use of pathological and bioinformatic methodologies to diagnose and track prostate cancer onset and progression."
Reflecting on the importance of this award, Chinnaiyan commented, "Receiving an award from the AACR is a significant personal honor for me and also recognizes the efforts of many individuals who I have been fortunate to work with. It also signifies the importance of molecular pathology in the care of cancer patients."
Chinnaiyan has been a member of the Department of Pathology since his residency training and has been an extremely productive and successful researcher. In addition to his titles listed above, Chinnaiyan is a Howard Hughes Medical Institute Investigator and American Cancer Society Research Professor, roles which demonstrate his stellar research accomplishments. He leads a large research team of more than 80 faculty, postdoctoral fellows, graduate students, and technical and administrative staff at the Michigan Center for Translational Pathology. Chinnaiyan and his lab have had their research, primarily focused on prostate cancer, published more than 600 times. An overview of his research and the complete publication list for Chinnaiyan and the laboratory can be found at the MCTP's website.
Please join us in congratulating Dr. Arul Chinnaiyan for this well-deserved prestigious honor!