Pathology welcomes Dr. Annette Kim, Director for Molecular and Genomic Pathology
By Lynn McCain | July 10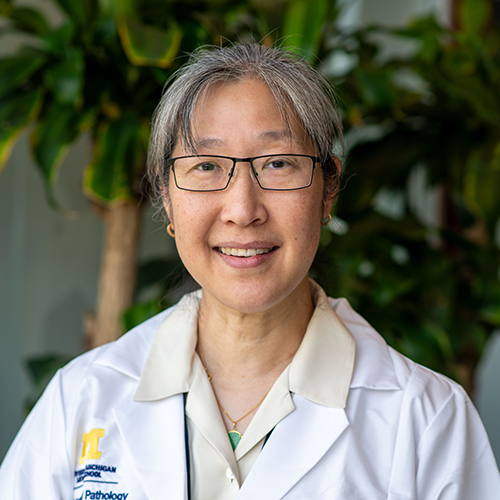 It is with great pleasure that we introduce Dr. Annette Kim, Division Director for Molecular and Genomic Pathology and Clinical Professor of Pathology, effective July 1, 2023. Dr. Kim joins us from Brigham and Women's Hospital (BWH) and Harvard Medical School. She received her MD and PhD from Harvard Medical School before heading to Memorial Sloan Kettering Cancer Center for a post-doctoral research fellowship. Following her fellowship she spent several years in industry, heading a novel target validation initiative within Cancer Biology at Merck Research Laboratories before returning to residency in Clinical Pathology and Laboratory Medicine and a fellowship in hematopathology at the University of Pennsylvania. Following her training in pathology she led a successful research program while performing clinical duties in hematopathology and molecular diagnostics at Cooper University Hospital and Vanderbilt University Medical Center. She joined the faculty at BWH in 2015 where she was an active participant in the hematopathology practice while also Associate Director of the Center of Advanced Molecular Diagnostics and Director of the Translation Biomarker Core. In addition, she served as Co-Director of the Interpretive Genomics Program and Medical Director of the BH3 Profiling Flow Cytometry Core at the Dana-Farber Cancer Institute.
Dr. Kim is a nationally and internationally recognized leader in her field, with a remarkable track record of accomplishment in clinical practice, education, and discovery. She is a member of multiple specialty and subspecialty organizations including the Association of Molecular Pathology (AMP) where she has served as Chair of the Education Committee, the AMP/ASH (American Society of Hematology) Exploratory Guidelines Workgroup, and the Hematopathology Subdivision. She was also elected to the AMP Board of Directors. In addition to her various roles in member organizations, her remarkable track record of service includes numerous departmental, medical school, and hospital roles. Education has always been an important part of her career path. She taught molecular and hematopathology courses at CAP, AMP, ASCP, and USCAP. In 2021 she received the BWH Clinical Pathology Teaching Award, an award she previously won in 2016. A decade before she received the Resident Teaching Award at Vanderbilt University Medical Center where she also served as Co-Director of the Blood Module in the medical school curriculum. She has made multiple important contributions in her research which includes nearly 90 peer-reviewed publications in peer-reviewed journals, many in high impact journals like the New England Journal of Medicine and Blood.
The Division of Molecular and Genomic Pathology was created less than a decade ago to align our organizational structure with the emerging role of molecular and genomic pathology across all clinical domains including both anatomic and clinical pathology. It includes multiple laboratories increasingly integrated across shared space at NCRC that leverages talents and tools common across the diverse clinical, educational, and research activities that comprise this growing and essential component of our department. Since its inception Drs. Riccardo Valdez and Thomas Giordano have served as Co-Directors of the Division of Molecular and Genomic Pathology and, together with laboratory leaders like Noah Brown, Lina Shao, Jeff Innis, Matthew Cusick, and Arul Chinnaiyan, have built a solid foundation from which to continue building toward a future in which the power of our molecular and genomic tools will increasingly influence how patients and their families navigate health and disease. The department has, and will continue to make substantial investments in support of the vision that Dr. Kim has developed in collaboration with departmental and institutional leaders.
Please join us in thanking Drs. Giordano and Valdez, as well as all the laboratory leaders essential to this work, for all that they have done to contribute to a track record of growth and success. Please also join us in welcoming Dr. Annette Kim to our Michigan Medicine family!