Dr. Paul Harms Discusses The Passing of a Legend from Merkel Cell Carcinoma
By Lynn McCain | September 7


The death of singer/songwriter Jimmy Buffett brought sadness to those of us who grew up listening to his music and enjoying the beach vibe. Buffett died from a rare, but aggressive, form of skin cancer called Merkel cell carcinoma (MCC). This cancer usually appears as a rapidly growing flesh colored or reddish-blue nodule on sun-exposed skin. Caught early, MCC can be successfully treated. However, MCC does spread quickly throughout the body, at which point, treatment depends on where and how extensively it has spread.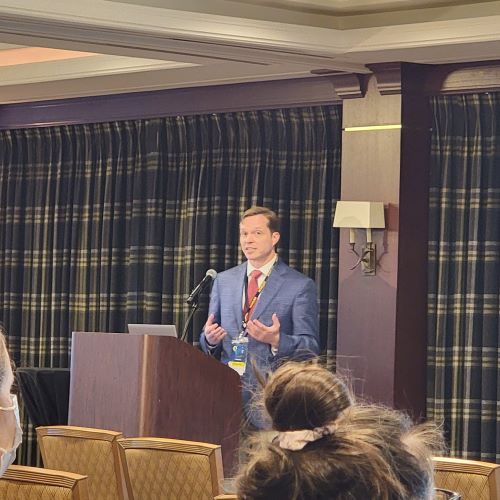 Following Buffet's death, Dr. Paul Harms, Professor of Pathology and Dermatology at Michigan Medicine, was interviewed by Wood TV. In this interview, Harms, who is an expert on MCC, discusses the causes, clinical presentation, and treatment for Merkel cell carcinoma.
Harms has been engaged in groundbreaking research on MCC at the University of Michigan for many years, with over 25 published studies on this topic. Notably, working with Dr. Arul Chinnaiyan, he was lead author on the 2015 genomic study that found definitive evidence for UV damage in many of these tumors, which was fundamental to establishing the current "two-pathway" paradigm for Merkel cell carcinoma.
For those interested in a more in-depth exploration of MCC, Harms has worked with an international team of leaders in the MCC field to publish an expert consensus statement, The biology and treatment of Merkel cell carcinoma: current understanding and research priorities. This publication is the result of a 2018 workshop at the National Cancer Institute that brought together academic and industry experts in the field to the current state of the field. In 2019, Harms added a publication discussing the diagnosis, demographics, molecular-genetics, staging, prognostic biomarkers and therapeutic advances in Merkel cell carcinoma. These two publications can provide readers with a broad understanding of MCC.
Limiting sun exposure and using a good-quality sunscreen when outdoors can help prevent MCC as well as more common skin cancers including melanoma. Prompt attention to new or changing skin lesions is essential, as outcomes can be worse if tumors are neglected. Michigan Medicine, with one of the largest multidisciplinary MCC clinics in the nation, can provide expert care to patients with a diagnosis of MCC.
Citations:
Harms PW, Vats P, Verhaegen ME, et al. The Distinctive Mutational Spectra of Polyomavirus-Negative Merkel Cell Carcinoma. Cancer Res. 2015 Sep 15;75(18):3720-3727. https://doi.org/10.1158/0008-5472.can-15-0702
Harms, P.W., Harms, K.L., Moore, P.S. et al. The biology and treatment of Merkel cell carcinoma: current understanding and research priorities. Nat Rev Clin Oncol 15, 763–776 (2018). https://doi.org/10.1038/s41571-018-0103-2
Tetzlaff, M.T., Harms, P.W. Danger is only skin deep: aggressive epidermal carcinomas. An overview of the diagnosis, demographics, molecular-genetics, staging, prognostic biomarkers, and therapeutic advances in Merkel cell carcinoma. Mod Pathol 33 (Suppl 1), 42–55 (2020). https://doi.org/10.1038/s41379-019-0394-6