Dr. Rajiv Patel named Section Head for Dermatopathology
By Jeffrey Myers | January 16 2020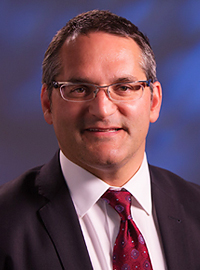 It is with great pleasure that we announce Dr. Rajiv "Raj" Patel as our new Section Head (Director) for Dermatopathology effective February 1, 2020.
Patel joined our faculty as Assistant Professor of Pathology in March 2009. His faculty appointment followed residency training in anatomic and clinical pathology at the Cleveland Clinic, fellowships in surgical and soft tissue pathology at Emory University in Atlanta, a dermatopathology fellowship at the Cleveland Clinic, and nearly two years as a senior lecturer at the University of Western Australia in Crawley, Australia. Over the last 10+ years he has risen through the academic ranks and was promoted to Professor of Pathology in September 2018.
Patel has established himself as a nationally and internationally recognized expert in not only dermatopathology but also soft tissue pathology. He authored or co-authored nearly 90 peer-reviewed publications, contributed 14 book chapters, and served as co-editor of a textbook entitled Soft Tissue Tumors of the Skin. He serves as associate editor for the Journal of Cutaneous Pathology and as an editorial board member for multiple journals including the American Journal of Dermatopathology and the American Journal of Surgical Pathology. He is a highly sought-after speaker with 130 invited presentations and seminars, including 13 visiting professorships. Patel has received multiple awards recognizing his contributions, including several for his role as teacher and mentor. He will assume his administrative responsibilities for our dermatopathology section on February 1, 2020.
On behalf of your leadership team, Drs. Charles Parkos and Kathleen Cho in the Department of Pathology, we invite you to congratulate Dr. Patel on his achievements. We also ask you to join us in thanking his immediate predecessor, Dr. Douglas "Doug" Fullen, and our entire dermatopathology team for building and nurturing one of the world's leading centers of excellence in dermatopathology!
Together the faculty, trainees, and staff in our dermatopathology section have grown our program into one that is arguably among the very best in the nation. Their legacy of success is tribute to their common commitment to serving the patients and providers who look to them for answers today, educating those who will care for us, and making the discoveries that may change the way we care for patients and families we've not yet met.