Community
Student Life
Diversity, Equity, and Inclusion (DEI)
We believe that when people feel respected and included, they can be more creative and innovative. The MCP program welcomes and celebrates students of all backgrounds, genders, ethnicities, abilities and disabilities, races, orientations, and walks of life.
Pathology Anti-Racism Taskforce (PART)—In the Department of Pathology, our commitment to the highest level of excellence in patient care, research, and education is inseparable from our commitment to diversity, equity, and inclusion. For example, every year in June, MCP students and mentors join PART and other members of the department at the Equality Walk to celebrate Juneteenth.


U-M DEI 2.0 initiative—At the University of Michigan, our values include a deep and ongoing commitment to creating and sustaining a community where the diversity of human experiences, perspectives and backgrounds are respected and celebrated. As an institution, we know – from a now large body of research and scholarship, and from our own history and experiences – that diversity, equity and inclusion are essential conditions for achieving the highest levels of academic excellence. These conditions also better enable our students, alums, faculty, and staff to use their world-class education, training, and the knowledge and innovations we produce to make critical impacts and contributions to our society. The recently launched DEI 2.0 strategic plan represents the University of Michigan's continued commitment to ensuring a diverse, equitable, and inclusive community.
Financial Support and Benefits
Students in good standing are fully supported for their tuition, health care benefits, and stipend throughout their graduate studies (current stipend: $38,970). First-year students are supported by PIBS (year #1). After completion of their first year, students choose a dissertation laboratory and continue to be funded by the Department of Pathology until reaching candidacy (~first half of year #2), at which point the MCP mentor's research grants provide funding until graduation.
In addition, first-year students receive a laptop computer and a one-time $2,500 "moving expense" stipend paid out during the summer of their transition into PIBS.
For a detailed description of the numerous grant opportunities, fellowship awards, and financial aid available to MCP students, please visit Opportunities.
MCP Student Council
The MCP Student Council, which is currently led by fourth-year MCP student Noah Puleo (DiFeo Lab), hosts monthly meetings and coordinates multiple social events throughout the year, including student/faculty mixers, camping trips, ice cream socials, and community outreach projects. MCP students also lead the organization of the Annual MCP Research Symposium. An MCP Student representative selected by the MCP Student Council serves on the MCP Steering Committee to provide students' perspectives, feedback, and suggestions on the program.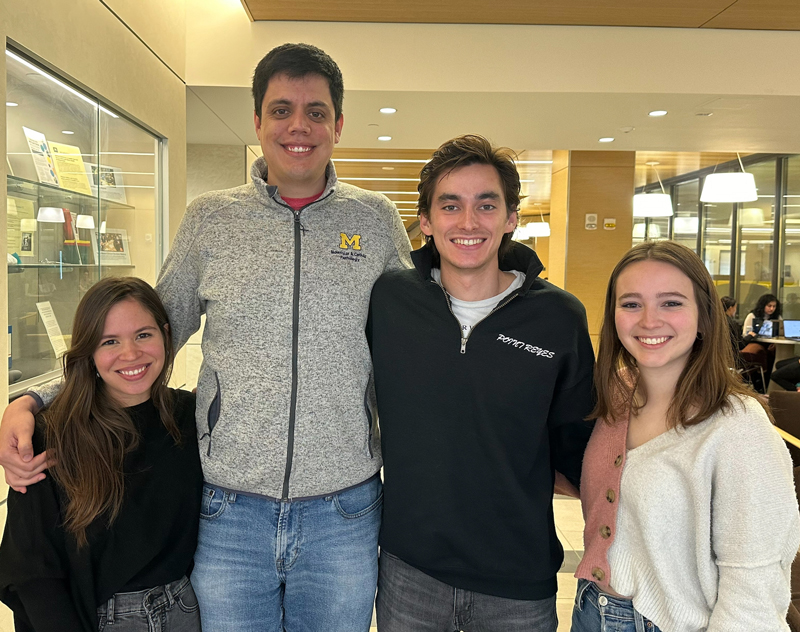 Community Service and Outreach
Many MCP students give back to the community through educational and community outreach programs. MCP students have a long track record of being impactful benefactors in their community. For example, in 2016, during the water crisis in our neighboring city of Flint, Michigan, MCP students organized a trip to support the local Red Cross organization by hand-delivering bottled water and related supplies to senior Flint residents.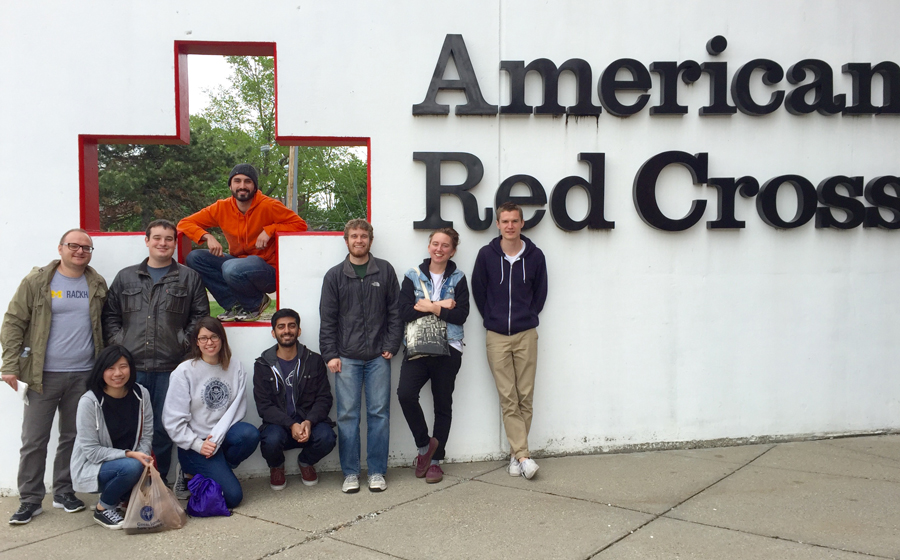 The selfless dedication of our students to community service is recognized with one student named the MCP Outstanding Service Award recipient annually at the Annual MCP Research Symposium. The MCP Outstanding Service Award recognizes a student who has shown great commitment of time and effort towards service to the department and the community by, for example, participating in or leading projects that aim to improve the lives of our youth and/or to support members of society that are underrepresented or underprivileged.
In 2022, two MCP students received the inaugural MCP Outstanding Service Awards: Jessica Teitel (DiFeo Lab) and Derek Dang (Venneti Lab). Jessica Teitel (DiFeo Lab) was recognized for, among others, her contribution as an Instructor to the Developing Future Biologists (DFB), an educational outreach organization that trains the next generation of biologists, regardless of race, gender, or socioeconomic status. Derek Dang (Venneti Lab) is an enthusiastic leader and organizer in multiple service organizations and has served as an advocate, coach, and educator for young people and STEM trainees in many ways, e.g. with Fathers and Sons Together (FAST), a youth and family development program with which he has been involved for the last seven years that focuses on improving educational and health outcomes among Black youth in his hometown of Seattle.
The MCP team was proud to share the news last June that Derek had also been selected among all Rackham Graduate School students as the recipient of the 2023 Phyllis M. Wise Biomedical Sciences Graduate Student Award for Excellence in Service.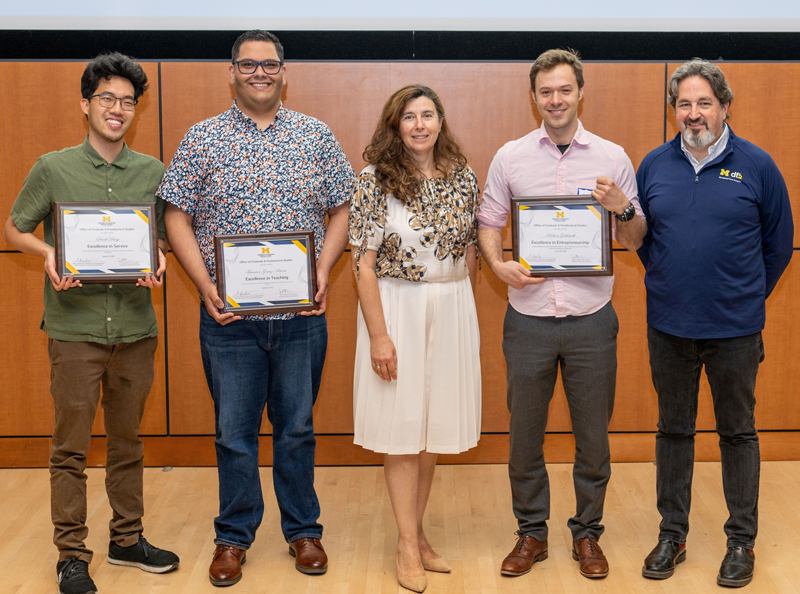 More recently, at the 22nd Annual MCP Research Symposium, fourth-year MCP student Gabrielle Rozumek (Prasov Lab) received the 2023 MCP Outstanding Service Award for, among others, her critical role as the Co-Finance Director of the University of Michigan Young Science Innovators (U-MYScI). Through her fundraising effort, she helped deliver community-centered and engaging quality STEM education to students in the local community who may not have otherwise had the opportunity.
Social Events
The MCP community meets regularly to socialize. Latest events in 2023 include: introduction to the French game of pétanque at Gallup Park (July 2023), ice-cream social to welcome first-year MCP students into our community (August 2023), happy hour at Casa Dominick's (October 2023), upscale dinner at the Gandy Dancer restaurant to kick off the 22nd Annual MCP Research Symposium (November 2023). Next on the MCP calendar: a taste of global flavors at the multicultural potluck to celebrate our culinary differences before the holiday season (December 2023).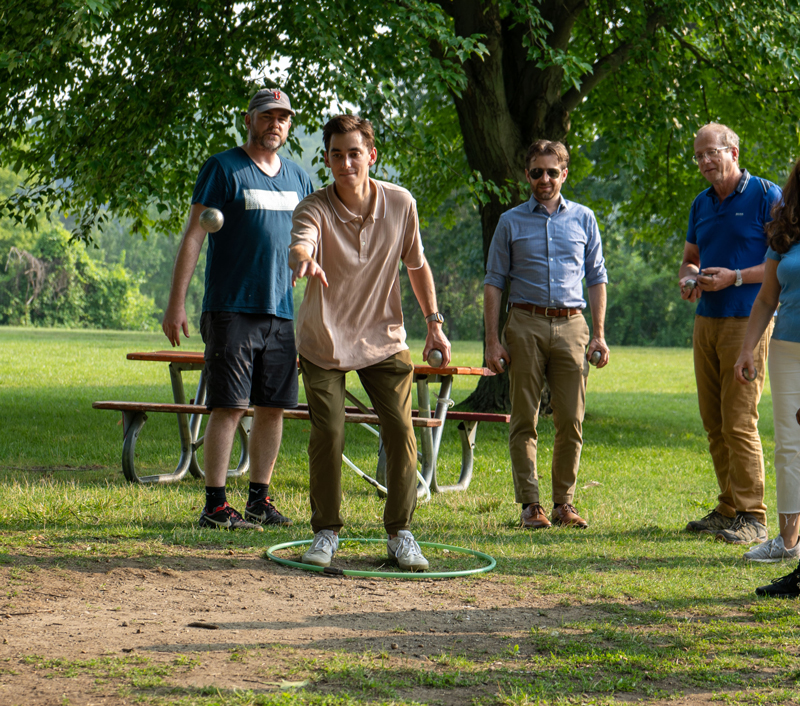 MCP students value spending fun bonding time together. Every summer, students organize an MCP-sponsored camping trip. The 2023 trip upheld this beloved tradition and was a great success as everyone carpooled up to the Pinckney Recreational Area for a weekend. The students spent a day relaxing at a nearby beach reading and tossing a frisbee before setting up camp and cultivating the all-important campfire. Buoyed by the perfect execution of the weekend, we are all excited for next year's camping trip.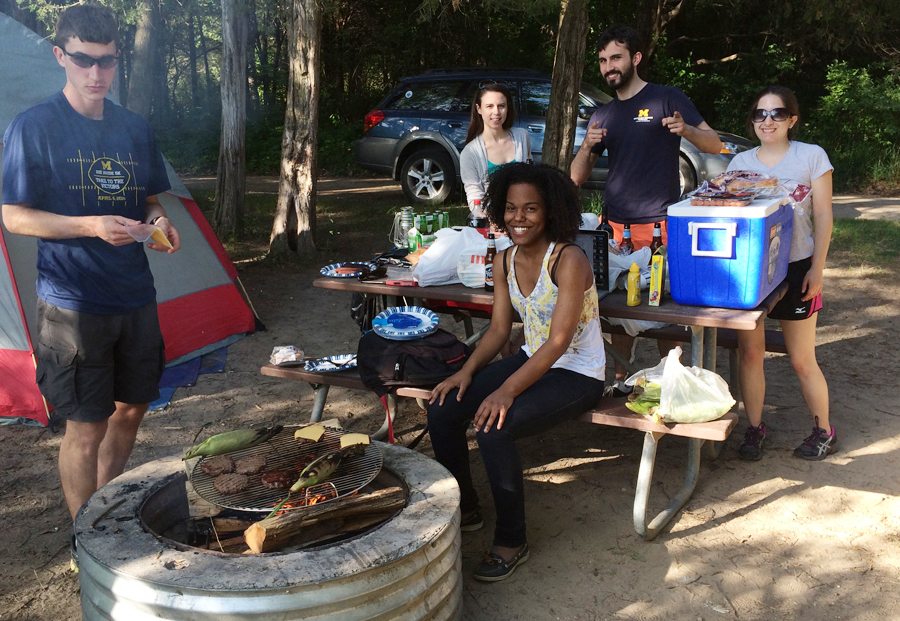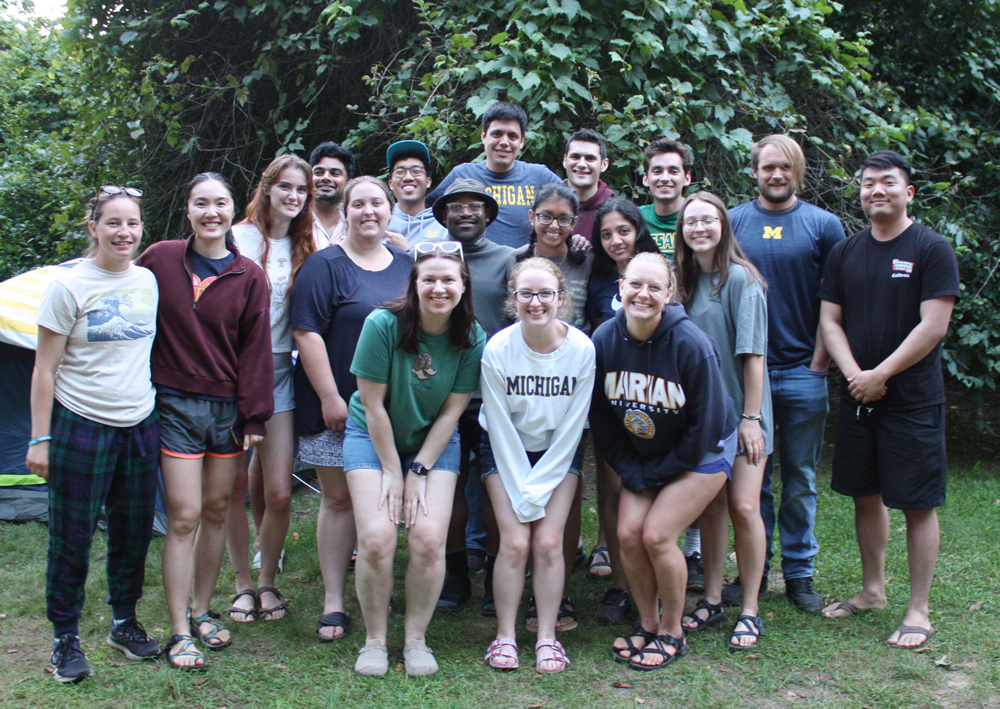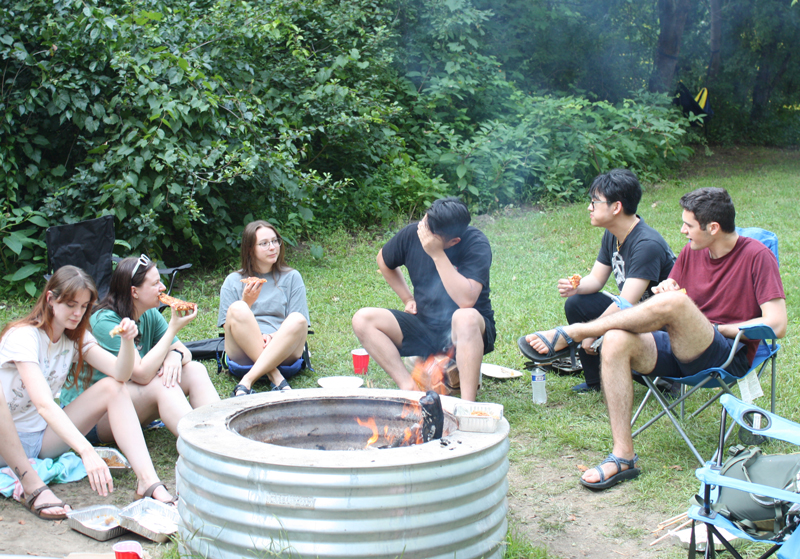 MCP students relax around a firepit at the Bruin Lake Campground in the Pinckney Recreation Area during the annual MCP camping trip (Left: June 2015; Right: August 2023).
Student Organizations
MCP students are actively involved in various organizations focusing on DEI (F.E.M.M.E.S and SACNAS), K-12 education (SEEK), professional development (ESPA and BGSG), science communication (MISciWriters), business consulting (miLEAD), and more (featured here by PIBS). These organizations are a great way to become actively involved in campus issues or community outreach and to connect with other students who may have similar interests. Students are sure to find a group that matches their interests among the >1500 student organizations on campus.

Life in Ann Arbor
The City of Ann Arbor has an abundance of cultural and athletic offerings for residents.
Ann Arbor museums, galleries, and libraries, and performance venues include the University of Michigan Museum of Art, the Michigan Theater, and The Museum of Natural History. The University Musical Society and The Ark offer an excellent selection of concerts and theatrical productions each year. We recommend balancing your studies, research, and social life with visits to the Detroit Observatory and walks through Nichols Arboretum and Matthaei Botanical Gardens.
Check Happening @ Michigan, the U-M events calendar, for a chance to experience a new community, meetup, or performance, including a host of multicultural options for people of all backgrounds. Other favorite events in Ann Arbor: the Art Fair and the A2SF summer festival.
U-M also has a diverse Recreational Sports Department that offers many intramural sports including ultimate frisbee, softball, sand volleyball, broomball, dodgeball, basketball, and flag football. Work-out facilities are available throughout campus and are available for student use.
More information about living in Ann Arbor: Go Blue Guide.
Cost of living comparison tool.
Last but not least: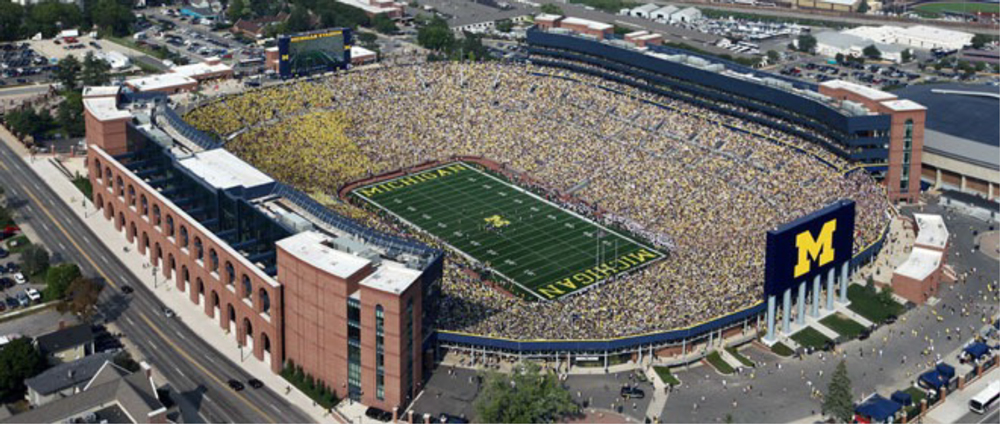 Getting Around
Ann Arbor's compact scale makes it easy to find your way no matter where you're going. Here's where you will find everything you need to know about getting to and around the city, including information on accessibility and riding the extensive Ann Arbor city bus system ("The Ride"), free with your M-Card. Detroit Metropolitan Airport (DTW) is located about 30 minutes east of Ann Arbor off I-94, giving travelers easy access to any destination in the world. While many graduate students have their own cars, they are not necessary to get around the University of Michigan and Ann Arbor. In 2021, Ann Arbor was named a gold-level bicycle-friendly community by the League of American Bicyclists (only one in Michigan, and one of 35 in the USA).
Well-Being
The Well-being Collective is a collaborative effort focused on making U-M a better place to live, work, and learn for our students, faculty, and staff by implementing a system-wide approach to supporting well-being across our campus. Various resources for support and counseling are available for students, including Rackham, OGPS, Dean of Students, and CAPS. For example, the Rackham Graduate Student Emergency Fund is intended to help meet the financial needs of graduate students who encounter an emergency situation or an unforeseen expense during their training (medical, dental, or mental health emergencies, major accidents, expenses related to the death of an immediate family member). The MCP team cares about the well-being of MCP students. MCP students can discuss not only their academic achievements but also the challenges they are facing inside and outside the lab during the one-on-one advisory meetings with one of the three MCP Academic Advisors, Drs. Jeff Rual, Asma Nusrat, and Simon Hogan.