The Michigan Medicine Department of Pathology supports the growth and evolution of a digital pathology environment in support of its varied missions. Digital Pathology (DP) may be defined as "an image-based information environment, enabled by computer technology, that allows for the management of information generated from a digital slide. DP is enabled in part by virtual microscopy, which is the practice of converting glass slides into digital slides [scanning] that can be viewed, annotated, and analyzed on a computer monitor."
The Slide Scanning Service (the Digital Pathology Core) performs scanning on a per-request basis; maintains a secure database of approximately 75,000 scanned images and associated metadata; instructs and provides technical support to faculty and staff for DP use; and is essentially involved in the growth of DP applications, including expanding DP support for tumor boards, testing and acquisition of new hardware, and preparing to meet telepathology needs before and after PRR.
The organization structure of our databases and interfaces is shown below. Points at which clients may interact with our databases are in italics.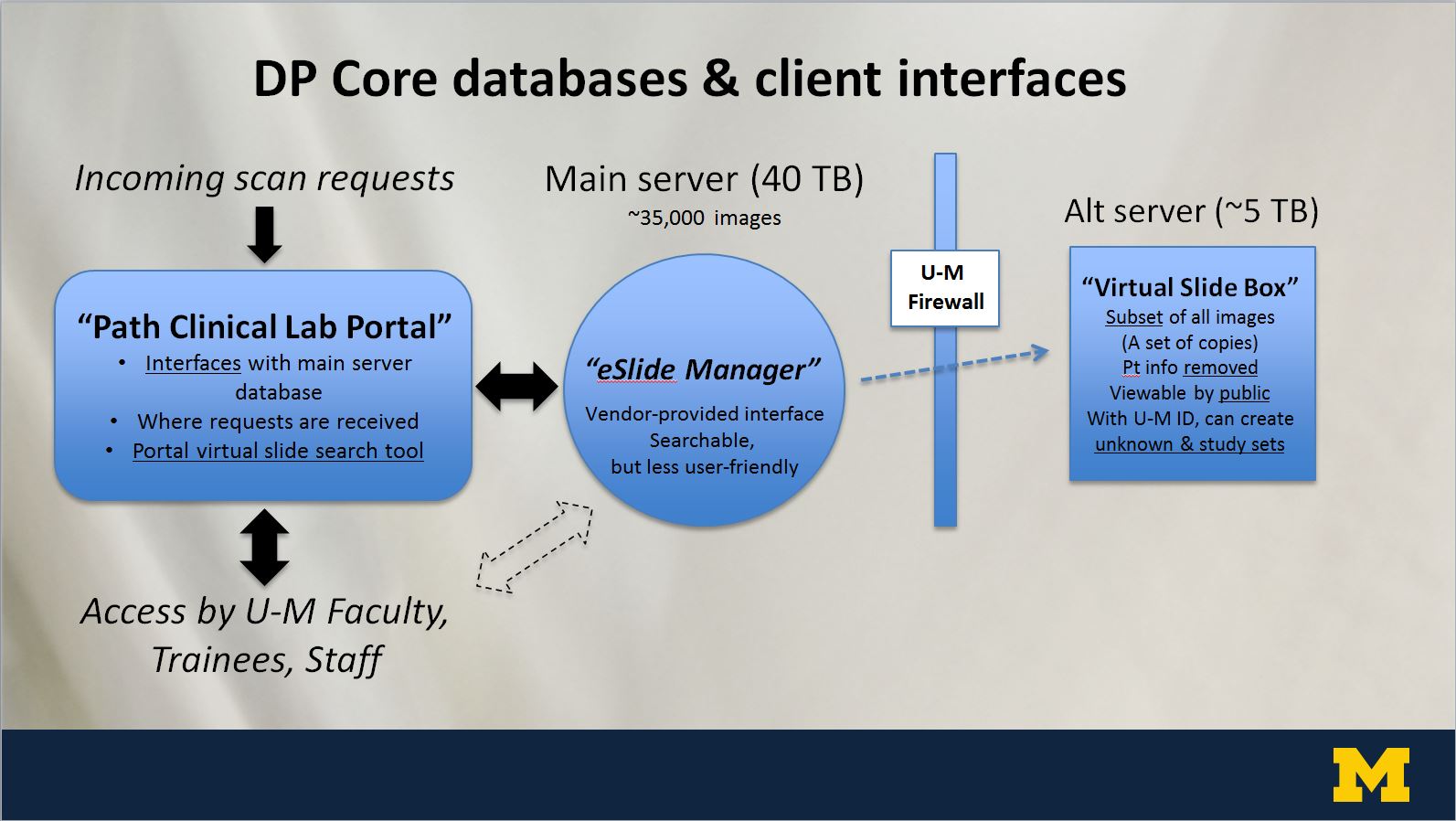 "eSlide Manager" is the name for our vendor-provided interface. While all U-M faculty & staff with an account may access eSM with their U-M Level 2 password, eSM is less user-friendly. We recommend new users interface with our database through the new search engine on the Pathology Clinical Lab Portal.
The Virtual Slide Box is a subset of our image database, containing just over 12,000 images, intended for teaching purposes. Patient identifiers have been removed, as it is outside the U-M firewall and accessible to the public. Faculty and trainees can create unknown sets and study sets.
Please note: effective July 1, 2016, recharges will be applied to all research and non-Pathology UMHS scanning requests.