How do I begin?
Know how to get the glass slides to us.

Unless prior arrangements have been made, we require a filled-out scan request form prior to glass slide drop-off.
Using the form, through the drop-down menus and the "comment" field at the bottom, communicate your intended purpose for the digital images and any additional needs to us. Examples include:

Faculty member personal collection
Tumor Board
Whether copies should be publicly available for educational or collaborative purposes, and if so, via which interface (if you're not sure, we are happy to help).
Whether you wish copies of the digital slides to be provided to you via secure cloud-based file transfer.

Know where to look for the digital images once the scanning request is complete.
Next steps
Review the

instructions for submitting slides

, followed by filling out the online slide submission form & obtaining printout.

Note for researchers: if you are mounting slides personally, please make sure slides are

clean and free of air bubbles trapped beneath the coverslip. Slides must be granted proper conditions for the mounting medium to completely cure: at least 10-18 hours in a well-ventilated space (not inside a small, sealed slide box). Slides suspected of incomplete curing will be held or returned. Avoid excess mounting medium and align the coverslip carefully.

For requests originating at the NCRC: bring glass slides and the request printout to NCRC Building 35, G432, area "G".

This is located within the Anatomic Pathology cutting area. See photograph. Slides may be picked up from this location following notification of order completion.

For requests originating at the main medical campus:

Bring this form and your slides to the location designated in the Transport of slides to/from NCRC link.
Slides will be packaged for courier shipment to NCRC. When the slide scan order is finished, slides will be returned to UH via courier. Please allow 3-4 hours after receiving email notification before checking the designated pickup area in UH for your slides.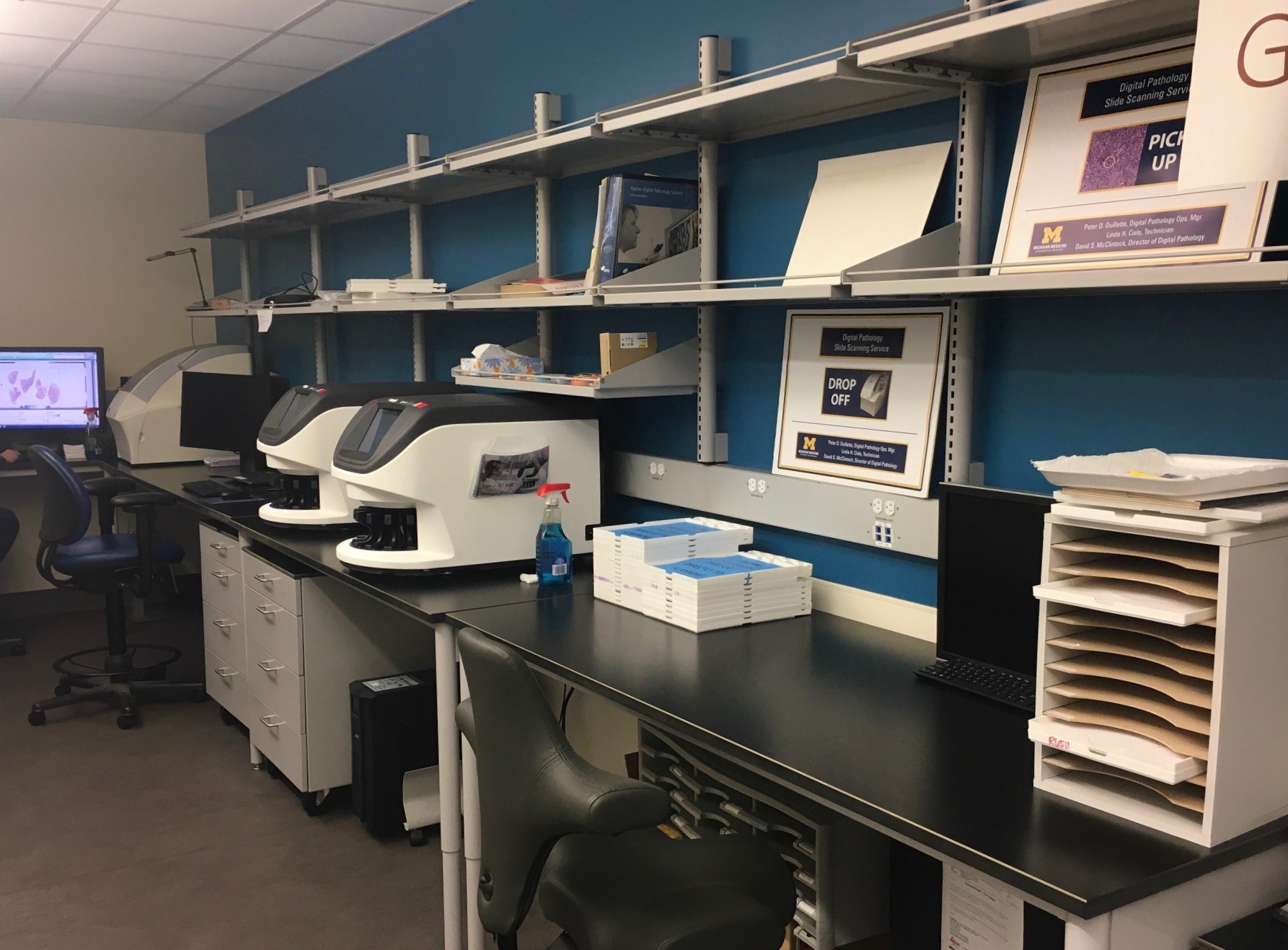 Click here to submit slides for scanning.